Here we are, at the last leg of our Amazing Scotland journey. As we drove from Oban to Liverpool, we took the opportunity to explore as much of Scotland as we could. It means we had to stop at Falls of Falloch. It has been an amazing journey, and we are happy to share our experience with you.
After enjoying excellent weather and magnificent views from atop McCaig's tower, we left Oban for Liverpool. It was going to be a long journey home. However, unlike the past days, the weather was glorious and we took some unscheduled stops to just pause and enjoy the beauty of unspoilt nature. There is nothing more refreshing than a sunny weather and breathtaking views!
As we drove away from the highlands, we were treated with some awesome views of Scottish landscapes. Then we stopped at the Falls of Falloch to see the water gushing in full force from 30 feet above. It was like meeting a friend after a long time – we had visited the place a couple of years ago and needless to say, it was an enjoyable experience then as it was now.
Falls of Falloch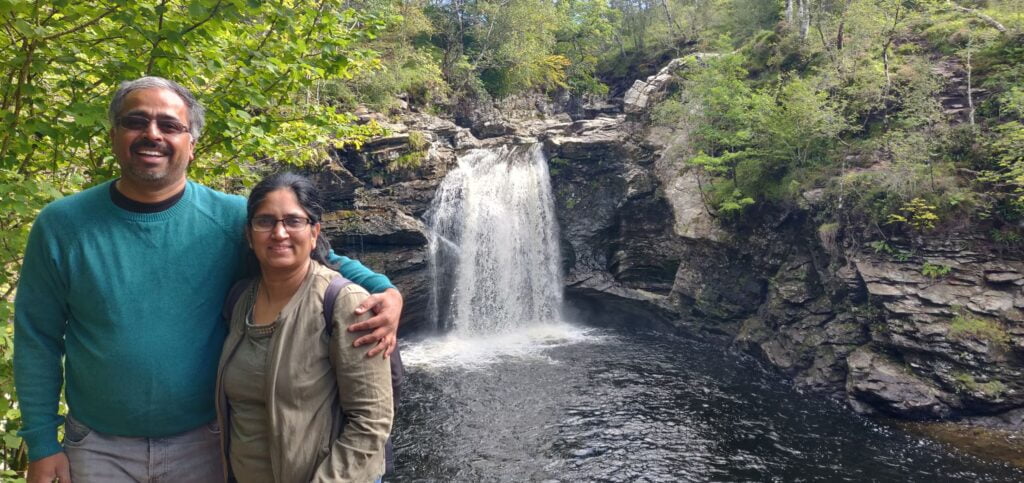 This 30 feet tall waterfall offers an enchanting view to the visitors. No wonder then that writers including Dorothy Wordsworth, and several painters appreciated the view of the falls as far as early XIX century. The huge pool down the waterfall is called Rob Roy's Bathtub.
It is a good place to enjoy picnic and perhaps for a swim on a hot day (during our earlier visit two summers ago, there were many enjoying a dip in the pool). However, the waters might turn dangerous when the fall is in full flow or during rains. So, one should be extra cautious before entering the waters. Also, remember that it is Scotland and water is likely to be colder than you think…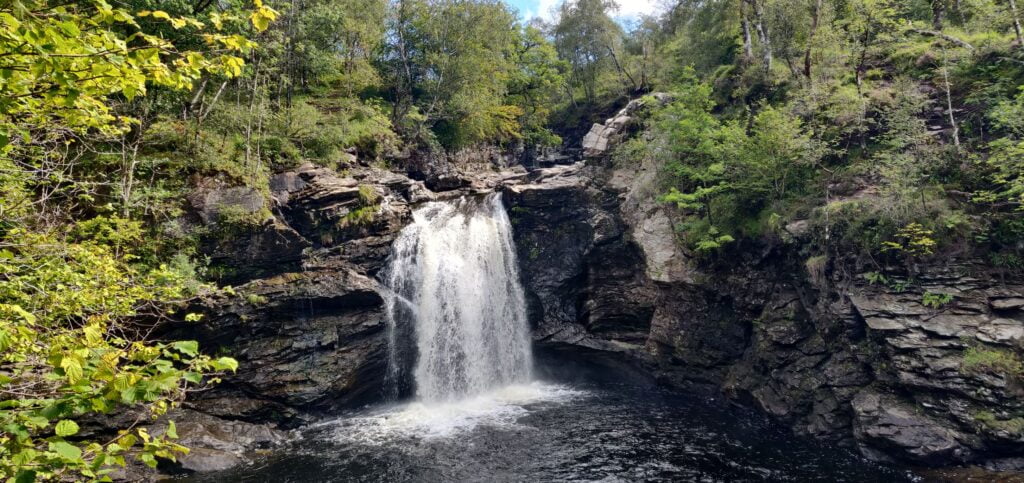 After spending some time admiring the waterfalls and the surroundings and of course, clicking pics, we headed back on road. As we passed by small towns and villages, all brimming with life, we could see people enjoying the sunny weather and more than that, a respite from the depressing times of the recent past.
We enjoyed our packed lunch of Tortilla wraps by the lakeside and headed to the beach (?) to stretch our legs and relax before continuing the rather long drive back to Liverpool. It was lovely to spend some time by the side of Loch Lomond. We had spend some time by the lake side during our previous visits too. Each time, it was as refreshing as a first visit.
Loch Lomond
Loch Lomond is a freshwater lake that lies between the lowlands of Central Scotland and the Highlands. The Loch is a part of the Loch Lomond and The Trossachs National Park established in 2002. Loch Lomond is 36.4 kilometres long and between 1 and 8 kilometres wide. It has a surface area of 71 km2, making it the largest lake in Great Britain by surface area. Loch Lomond is 502 feet deep at its deepest point. Its total volume 2.6 km3, which makes it the second largest lake in Great Britain, after Loch Ness, by water volume.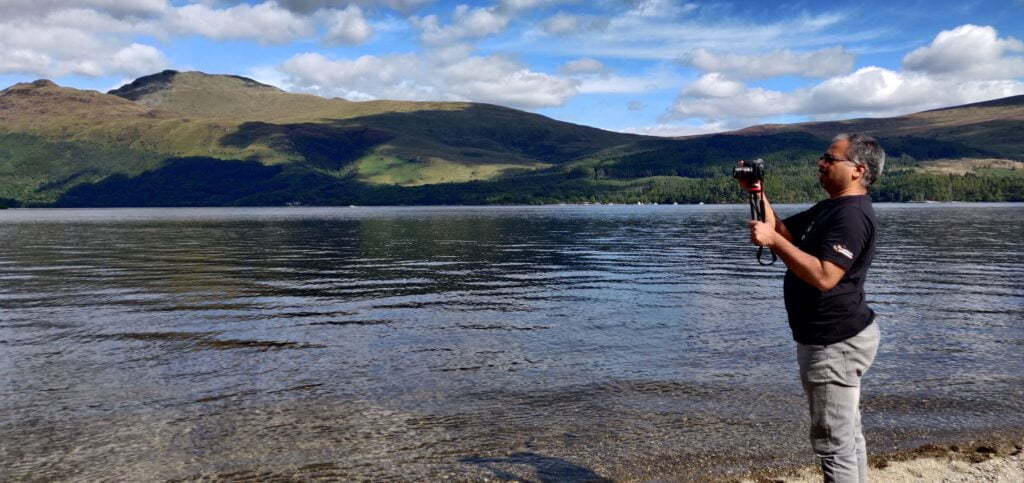 The entire setting is perfect for a picnic with family. Lovely sun, sand and blue waters with green mountains at the backdrop. A piece of heaven indeed.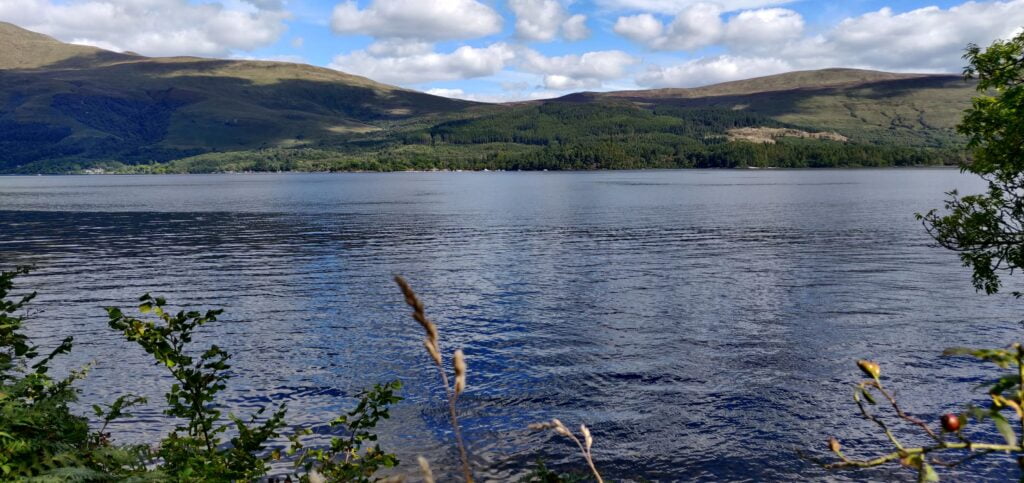 Last Leg of the Journey
But, no matter how good and enchanting it is, we have to be back home and so we headed back and hit the road again. The drive through motorway is somewhat boring, especially after a couple of hours because all you see is seemingly unending roads and uninhabited places wherever you look.
And then, after what it seemed like ages, we are back in the familiar surroundings. It might sound ironical, but one of the biggest happiness of going on a trip is coming back home. No matter how wonderful and beautiful the places you visited were, there is no place like home.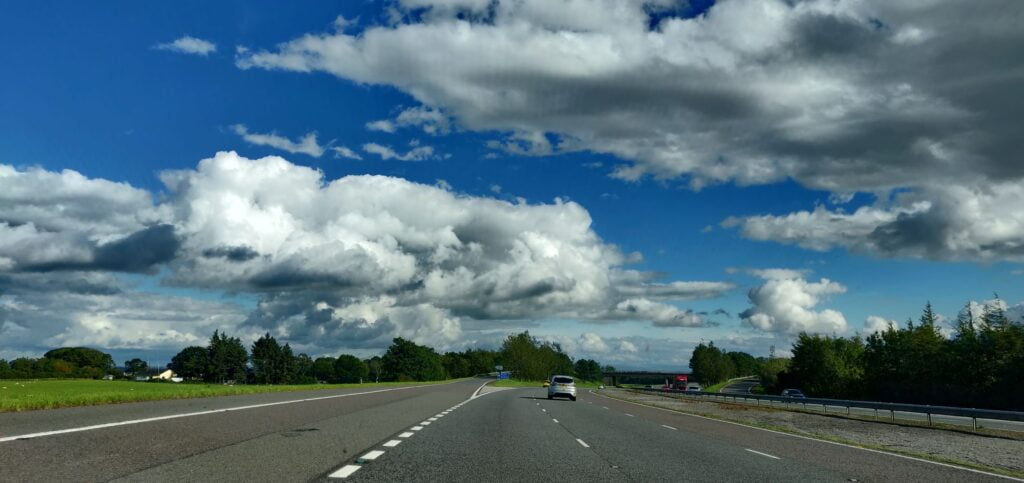 So, while we are happy and blessed to have been able to visit Scotland and Isle of Skye in particular, we felt particularly happy to be back. After five days of hectic travel and rushing from one spot to another, it was good to be back at home and be able to wake up the next day in the most familiar place… truly, there is no place like home…
Although this journey has ended, our journey never ends… Watch out this space for more… Until then, stay safe and take care!
By the way, to watch the vlog, click here