This blog is about our visit to Brockholes Nature Reserve which has UK's first ever floating visitor centre.
'Look deep into nature and then you'll understand everything better' –

Albert Einstein
Perhaps Einstein's words never held more meaning than now. Although the pandemic has tightened its grip on this part of the globe, we did enjoy a little breather in between, thanks to a visit to Brockholes.
A Much-needed Break
So, when we had the opportunity to get outdoors after months of confinement, we decided to spend it in the company of nature – not a surprising choice as all indoor attractions were more or less off limits. We had been itching to go outdoors and, on what looked like a fine winter day -with some sunshine and a little chill in the air- we headed to Preston to visit Brockholes Nature Reserve, which we discovered online while researching for places we could visit.
It looked like the right place for us to relax and unwind. As we reached there, we knew it was true. The weather was perfect – warm and sunny. When we reached the visitor centre, the sight literally blew us away. It looked so magical.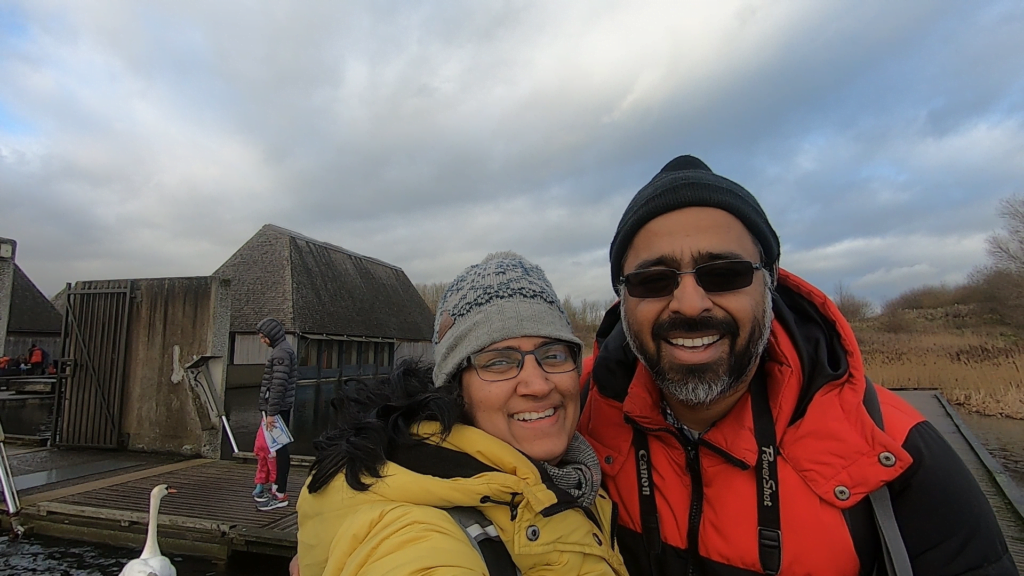 UK's First Floating Visitor Centre in Brockholes
UK's first floating visiting centre is definitely a sight to behold. Just watching those beautiful buildings by the water warms up the heart. As we walked along the pathway across the water, a Mute Swan swam in and provided some amusement – it is not everyday that you get to see quite a vocal mute swan!
We explored the visitor centre – it has a kitchen/restaurant, activity area, toilets and other facilities to make our visit comfortable. What's more -everything is so carefully designed that kids and families can enjoy a great day out there. The disabled-friendly facilities makes the place accessible to people of all abilities.
Once we took in all the excitement there, we headed to a trail. We headed to the lookout hide at the other side of the road. The trails were nice and easy until a point and then nature took over. As we negotiated the soggy earth and headed to the the hide, we couldn't help how wonderful the place is.
Lookout Hide – New home of In focus at Brockholes
The lookout hide houses In focus – a shop selling binoculars and spotting scopes It was a pleasing hide overlooking the lake – the birds were far and few in between. Some cormorants, a golden eye or two, some ducks and gulls… Much less than what we hoped for – but better than nothing.
We explored the area for sometime and headed to a crude hide/screen made of twigs. It was really interesting and we enjoyed watching some garden birds from there – reed bunting, tits, sparrow, dunnock and a robin. The trails are really nice and it was fun walking and exploring – of course, we should have worn wellies… Soon the weather turned for the worse and even the pleasant walk turned a bit unpleasant. The rain gave us the excuse to head to a hide and enjoy our cup of coffee and lunch.
We waited for sometime for the rain to subside. As soon as we thought did, we headed to the next hide – enjoying the walk and the information we could gather from the various boards placed along the trail. We learned that Brockholes is an important site for ground nesting birds such as lapwing, skylark and little ringed plover. This is the reason why the site is a no-dog zone.
We also learned how a former quarry has now become a wildlife heaven and what are the steps taken to protect the birds and other wildlife that thrive in the place.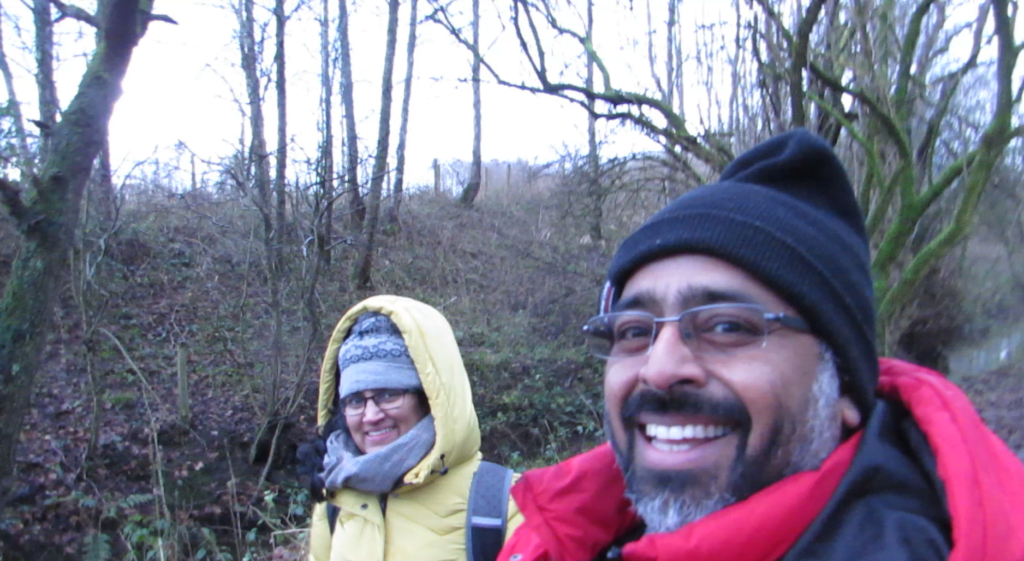 Time for Reflection
As the dark clouds loomed and threatened a downpour, we sat in the hide marvelling at the charms of nature. We didn't see many birds or wildlife. We could see nothing but a calm lake in front of us at that time. And yet, despite the constant hum of vehicles from the Motorway, we were at peace. There was a beautiful calmness within and without. That's what nature does – it heals and makes us happy just like that.
We walked back in the rain, braved the cold and wet conditions as cyclists rode past us with no concern about the rain or cold… It was remarkable – there we were, wet and cold and as uncomfortable as we could possibly be. Yet, we had smiles on our faces.
The Wildlife Trust for Lancashire, Manchester and North Merseyside owns and manages Brockholes. It is in Preston, just off M6 (GB PR5 0A) – a vast expanse of 250 acres of nature reserve. Almost equidistant from Liverpool and Manchester, it is an excellent place for families and kids.
You can see a video of our visit here