Scotland is not only a land of lakes, castles, and natural beauty, but also of Scotch Whisky. If you ever visit the Scottish Highlands, a scotch whisky distillery tour is must-see and do experience. In this blog, we shall be telling you all about our experience on such a tour.
Many of you might have tasted Scotch Whisky, but perhaps very few know the process behind its production. Join us as we take a tour of one of the smallest, yet traditional distilleries of Scotland to see how scotch whisky making process. (While we do not encourage or endorse drinking, it was fascinating to see and experience whisky making)
Booking a Scotch Whisky Distillery Tour
As soon as we decided to go to Scotland, we tried booking a whisky tour – it was something we could not fit in our itinerary on our previous visits. We tried our luck with many distilleries right from Edinburgh to Portree and Oban. However, our travel timings and their schedule (due to the Covid restrictions) didn't match and we thought we would not be able to do the much awaited tour this time too.
Luckily, we had decided to travel through the snow road as we wanted to experience the scenic drive through the Cairngorms National Park. As we checked the map, we saw that the snow road route would take us through Balmoral. A little bit of online research led us to the Royal Lochnagar distillery and it delighted us when their timings and our itinerary matched perfectly. (On hindsight, we are glad that we went to Royal Lochnagar because the welcome and experience that we got there was really special)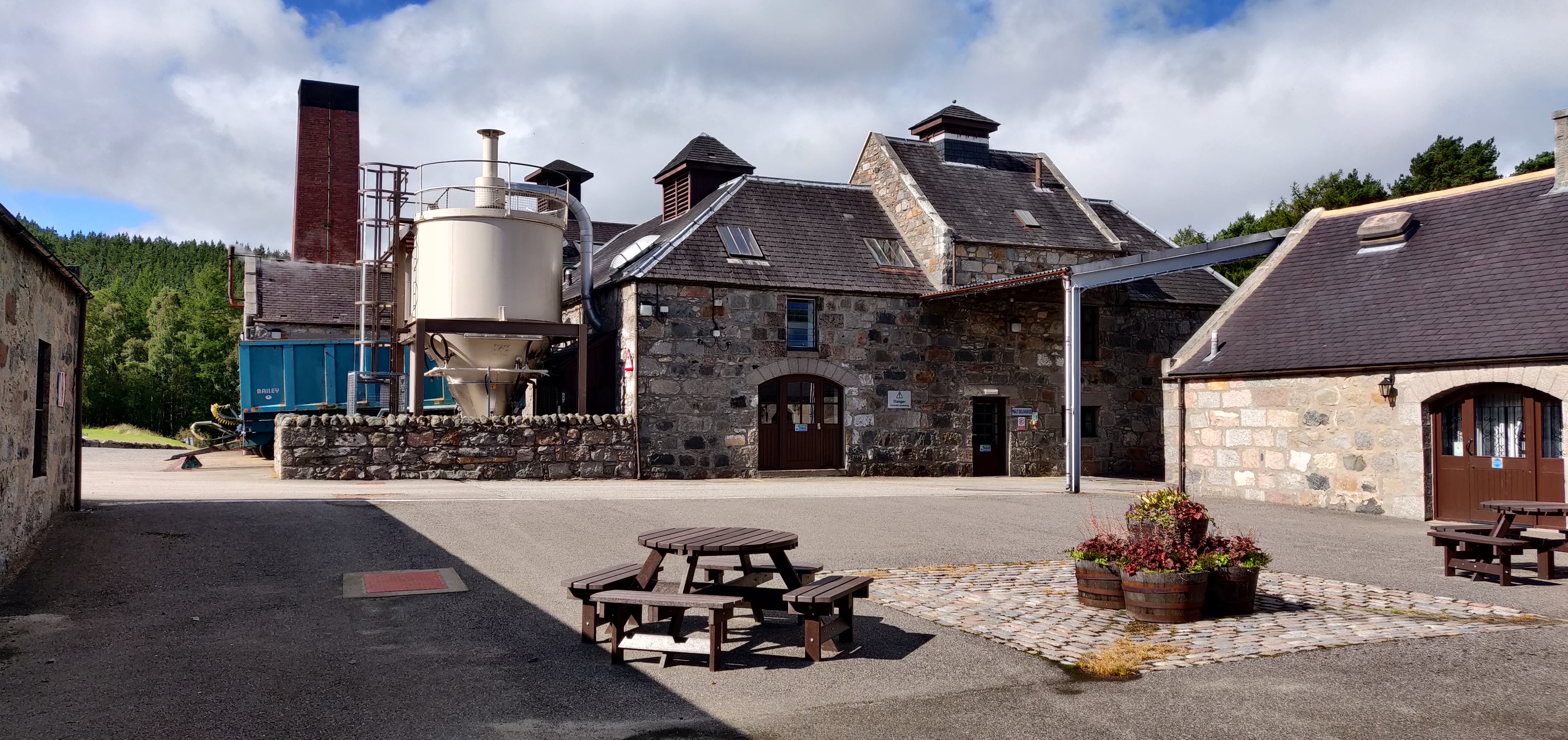 The tour started with meet and greet. Our tour guide, Annie, welcomed us and gave us a brief account of the distillery. The original distillery burned down in 1824 and the new distillery built in its place. It was again burned down in 1841. The new distillery built in 1845 got the name New Lochnagar.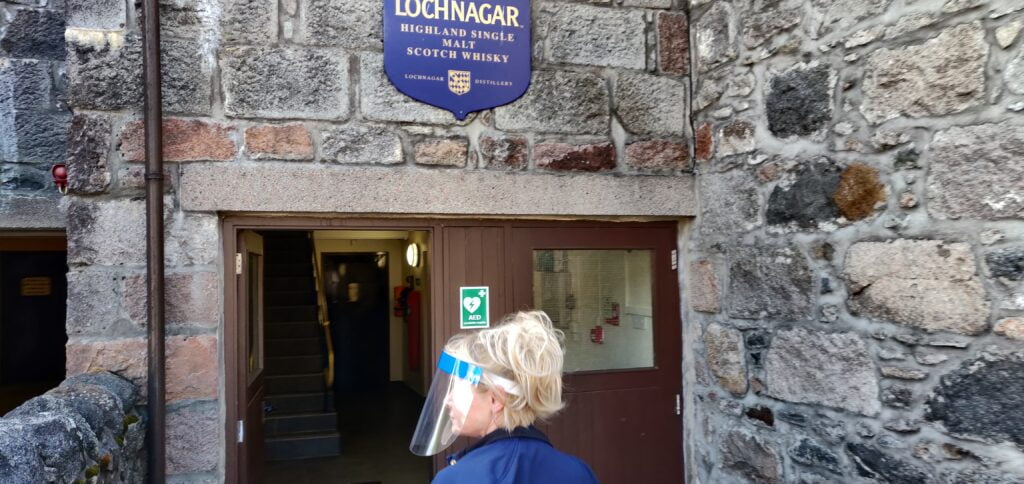 The Royal Warrant
In 1848, the owner John Begg invited Prince Albert to visit the distillery. Accordingly, Queen Victoria, Prince Albert and their three eldest children visited the distillery and gave a 'Royal Warrant'. Since then, it became 'Royal Lochnagar'.
At present, Diageo leases Royal Lochnagar from the Abergeldie Estate, and the distillery produces only a small quantity of whisky when compared to some other distilleries. Johnnie Walker black and blue label uses most of Royal Lochnagar whiskies.
The Whiskey Making Process – Highlight of Scotch Whisky Distillery Tour
It was truly amazing to learn about every process. The guide explained everything, right from the ingredients that made up Scotch Whisky- barley, yeast and water from Scotland. Our guide explained the entire process – sourcing of ingredients, germination, milling, mashing, fermenting, distilling and maturing.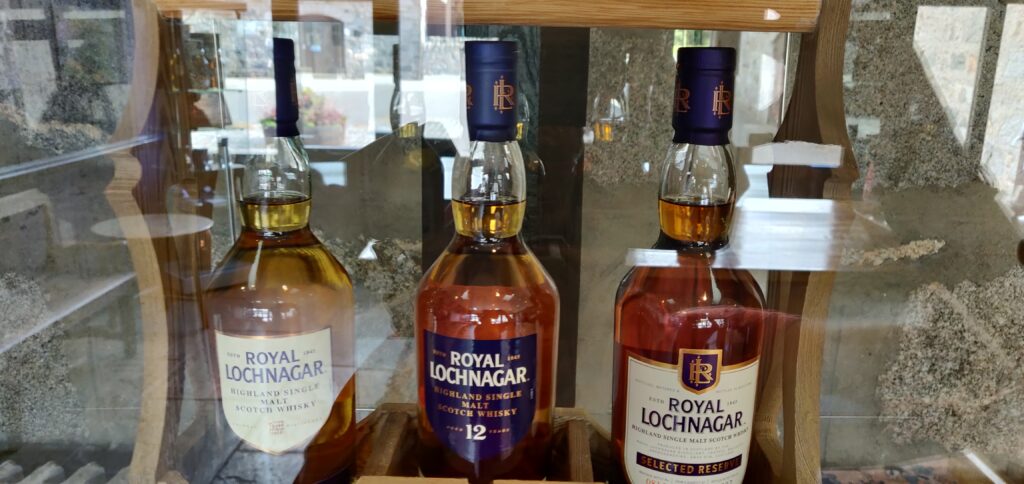 After all these processes, the whiskey has to remain in the cask for at least three years to qualify as scotch whiskey. (The Royal Lochnagar whiskies are at least 12 years old). We never knew even the cask used for maturation mattered. Did you? Further on, we were told how some whiskies got their smoky taste because of the peat. It was an eye-opening tour, to say the least.
If you wish to know more about Royal Lochnagar and its whisky tour, check their site for ticket prices and timings.
Why Choose Scotch Whiskey Distillery Tour at Royal Lochnagar?
If you are visiting or passing near Balmoral, you could very well plan a visit to this little distillery too. It is set in beautiful surroundings and that adds to the charm of this place. We would definitely recommend it to anyone who wish to enjoy a tour in a most relaxed manner and setting. Royal Lochnagar is one of the remaining traditional distilleries and there is something about it that puts us at ease the moment we reach the premise.
For those looking to avoid big, factory like set ups, this would be a good choice.
For someone who had no idea whatsoever about whiskies, the tour was highly informative. We couldn't have asked for a better tour guide than Annie, who patiently explained everything and answered even the silliest of the questions to our satisfaction. She made the tour extra special by offering our son, who had just turned 18, a taste of one of their finest whiskies. To promote responsible drinking and safety they even provided a small bottle to carry the sample so that whoever is driving can also taste the whisky – from the comforts of their own home.
As we had visited during the pandemic, we had to follow the covid protocols. All necessary covid safety precautions were taken and we were well taken care of. The personal touch and hospitality made it extra special for us. For all these reasons, Royal Lochnagar was the best choice for us.
You can watch the video of this amazing experience here.