After visiting Mealt Falls, we headed to Quiraing, which is beautiful landscape with its unique charm. Situated in the north of Skye, this geologically active area is a part of the Trotternish Mountain ranges. People visit the place to enjoy its stunning landscapes and to walk along the winding paths and ridges. Walking along the path is a popular activity here.
We can access the start of the walk from either of the villages of Staffin or Uig, which are joined by a single track road.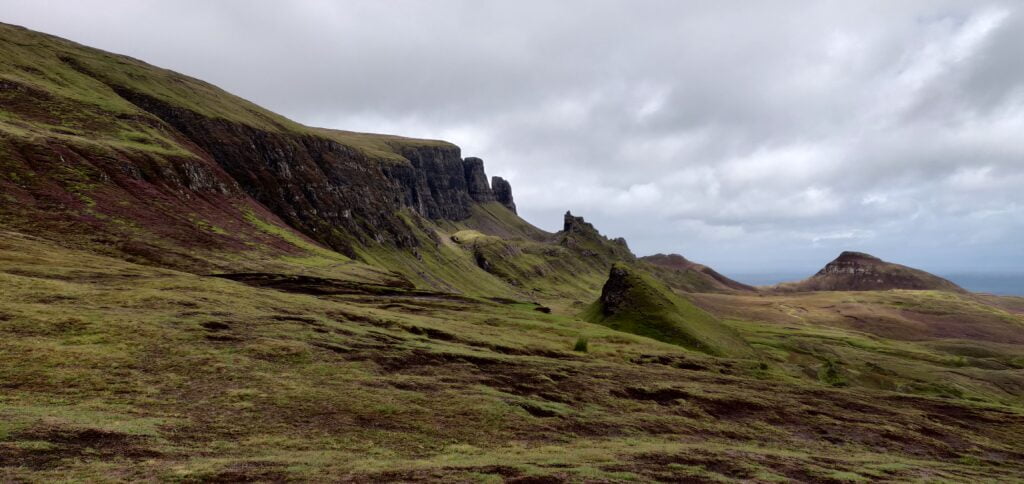 Quiraing Weather
Quiraing is not suitable in all weather conditions. There are some high cliffs along the path and it becomes extremely dangerous when the conditions are windy (it can be super duper windy out there!) and foggy (low visibility). Make sure you are dressed to meet the weather conditions.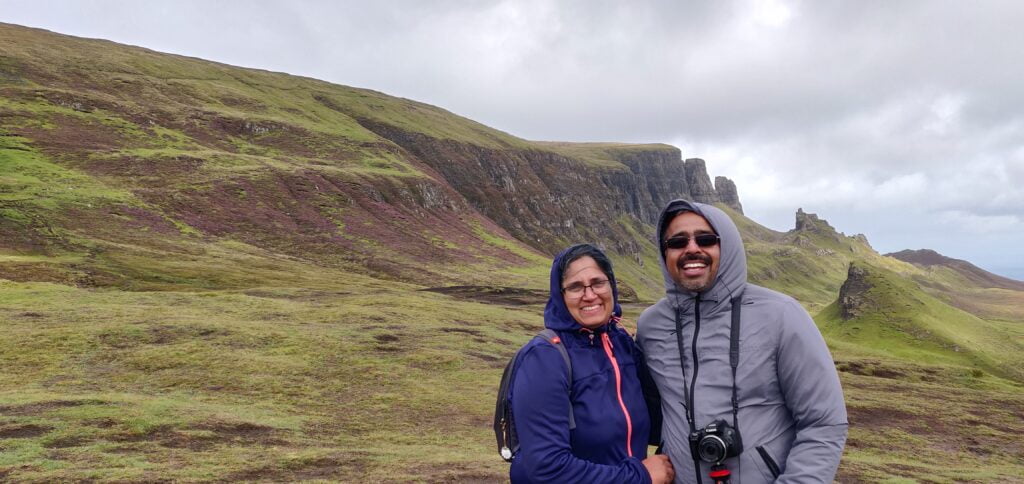 Walk along the Quiraing
The walk itself is not very difficult. The entire setting is beautiful that you would want to go on and on. It does get a bit tricky after sometime as you'll have to navigate some tricky paths along the way, but the views are worth the effort. If you plan to walk the whole loop, you will need 2-3 hours minimum. Even if you are short on time, you should at least walk as far as you can because the views are awesome. If you don't do that, you'll go home and regret it forever…
As you walk on, you can see up ahead you the high cliff faces and the 'Prison' and if you are a photographer, this place might feel like heaven. The landscape is so beautiful that you'll find excellent frames everywhere. Spend some time taking in the beauty and rejuvenate yourself.
Unique features
A great series of landslips formed the entire Trotternish Ridge. However, Quiraing is still moving – in fact, it is the only part of the slip still moving. Every year it is said to move 2-3 cm, necessitating annual road repairs in the region.
In the olden days, the locals used to hide their cattle in the area, especially during Viking raids. The place has a unique charm befitting the beautiful landscape.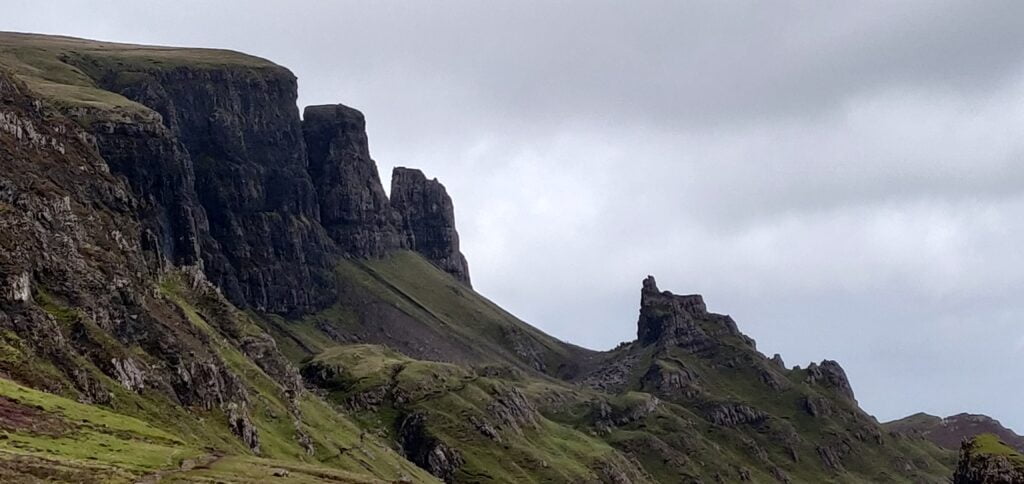 Our verdict
Definitely a must see and do! However, come prepared to battle the weather – especially the wind. It can literally blow you off! Of course, the rain can be a spoilsport. We were lucky that it didn't rain while we were out there walking. We were a bit underprepared, so can't blame the weather too…
Location: Quiraing, Portree IV51 9ES Scotland

Click here to watch the video