Caravans are popular in the UK. Many people drive mobile caravans to their holiday destinations. Those who are unable to do that, but wish to enjoy staying in a caravan, will find that static caravans are the best alternatives. Several popular tourist spots have caravan parks where you can rent the caravan for your duration of stay.
Apart from that, there are caravans run by individuals – often farmers and the like. These caravans are often situated near their homes and offer best of both worlds to the visitors. These stand-alone caravans give you a chance to experience life in the countryside.
Past Experiences in Caravan
This is not the first time we stayed in a caravan. We had enjoyed caravan stay a few times before and some of it remain etched in our memories forever. It is like a dream come true of living in a farmhouse or a countryside. As most caravans are set in the countryside by the side of a farm or a wonderful village, it can be instantly refreshing for those seeking refuge in quietude.
Stay at Burnside Cottage
This caravan is located in a farmhouse like setup – away from the hustle and bustles of Portree town. A lovely little world where we can forget all our problems and fatigue to unwind and be at peace – that's what Burnside Cottage provided us. Our host, Tiffany was there to welcome us. She gave us an overview of the facilities.
While she welcomed us in person, both of us maintained the social distancing and kept our interaction to the minimum. She had taken special care to maintain the Covid protocols and had everything ready before we reached the place. So, we could check ourselves in right away and enjoy our time there. And as she stayed close by, she was literally a call away.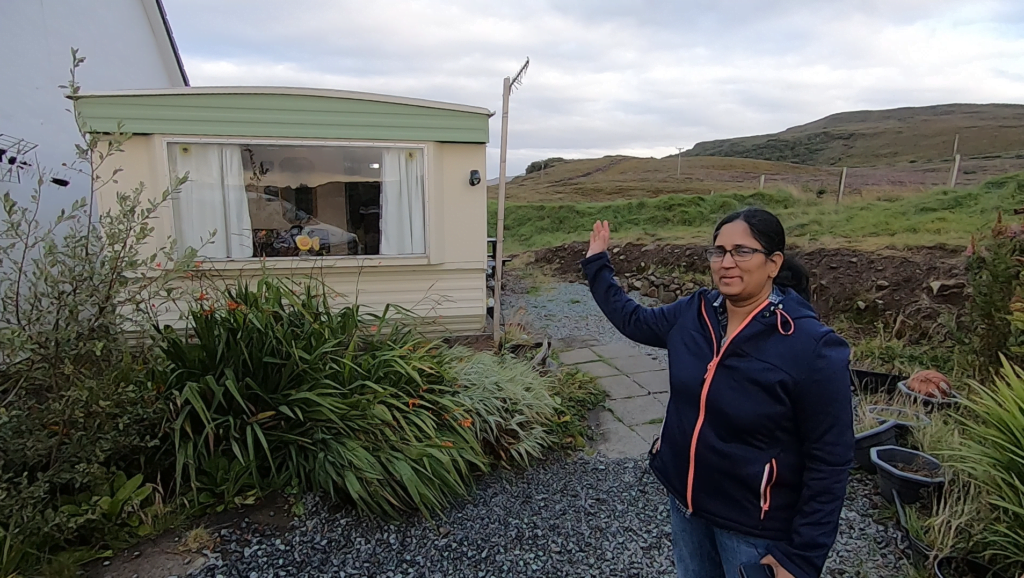 Her dogs were super friendly and they made our stay there even more memorable. It was with childlike glee we played 'fetch' with the dogs. The dogs were always ready for fetch and it was wonderful to see they both had distinct personalities of their own. They brightened up things for us on an otherwise gloomy and windy day – the weather was very rough during the days we stayed there and the dogs provided us with warmth and ample entertainment.
The Facilities and Ambience within the Caravan
Coming back to the caravan, it was everything we hoped it to be. The cozy living room, the comfortable dining area which doubled up as a comfortable bed, the small but well equipped kitchen, neat and comfy rooms, the tables and chairs outside, the picnic table by the courtyard, the swing – everything was refreshing for us. A memorable stay indeed.
During this trip, we were particularly looking for a caravan experience. We were looking to stay far away from the crowd wherever possible. But, the covid protocols and extra safety measures put in by the hosts meant lesser choice for the days we planned to travel.
However, Tiffany's listing was perfect for us as it was in a beautiful setting and available on the dates of our travel. It made things easier for us. The price quoted was reasonable too. We have no hesitation recommending it to anyone. In fact, if you are visiting Portree, it might be better to stay in a caravan than a hotel room.
How to Book a Caravan Stay?
We had made our reservations through Airbnb. Sites like Airbnb and booking.com have several caravan listings for you to choose from. These sites have reviews from other guests so you get an idea of the quality of services and facilities offered. Here is the link to if you wish to look up the place or stay there.
We visited quite a few places in and around Portree. You can read about our visit to the Old Man of Storr here.