This blog is about our experience staying in a landpod during our trip to Pembrokeshire, Wales.
During our recent trip to Wales – to see the Puffins – we had a chance to experience staying in a landpod firsthand. Although we had seen several pictures of it on the internet during our researches for places to stay, we never really tried it before. However, when we were searching for a place to stay overnight in Pembrokeshire, we stumbled upon YHA and we saw that a landpod was available.
We had always wanted to try tenting, but never really got down to it for various reasons. This seemed like a good way to experience some thrill of tenting and an opportunity to test the waters. Basically, we are budget travellers and do not really need or look for a luxury accommodation during our travels. A comfortable bed, a small area to lounge about, a place to cook and eat our meals, a clean bath & toilet – that's more than enough for us.
Landpod – Seeking a New Experience
As such, the landpod seemed like a good idea. The only concern was – there were four of us. And although we often think of them as kids, our children were anything but. It would be like four grown-ups in a tiny space. Would it feel too cramped? What if it felt claustrophobic?
Several such questions popped up in our minds and in the end, we decided that we will try it no matter what. After all, it is just for a night. So long as we can get a good night's sleep nothing else matters. Hence, we booked our accommodation well in advance and waited with anticipation.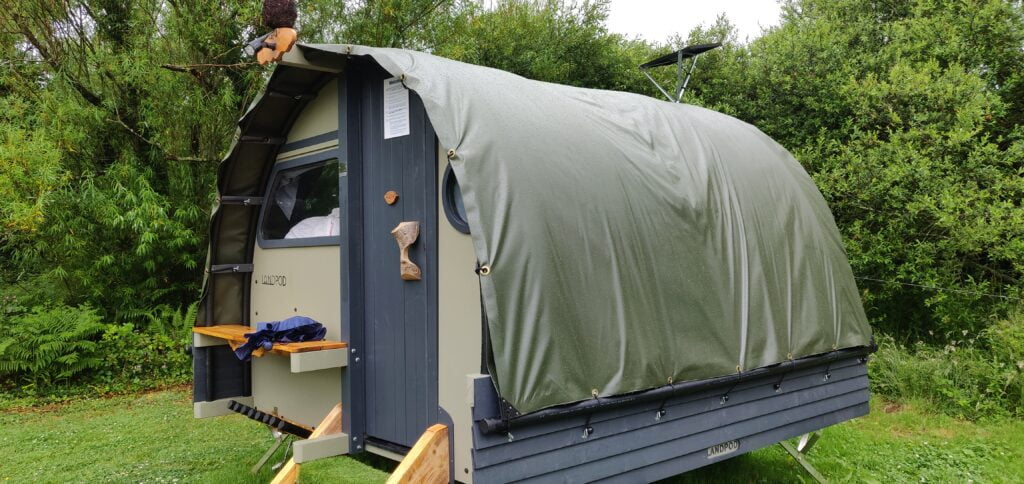 The Preparation (and planning, of course)
We planned and booked our tickets for Skomer Island two months or so in advance – certain Covid regulations were still in place in the UK at that time. Although we were not sure whether they will lift the restrictions restrictions in time for our visit or whether regulations will be different in Wales than in England, we decided to take a leap of faith and booked our tickets and accommodation.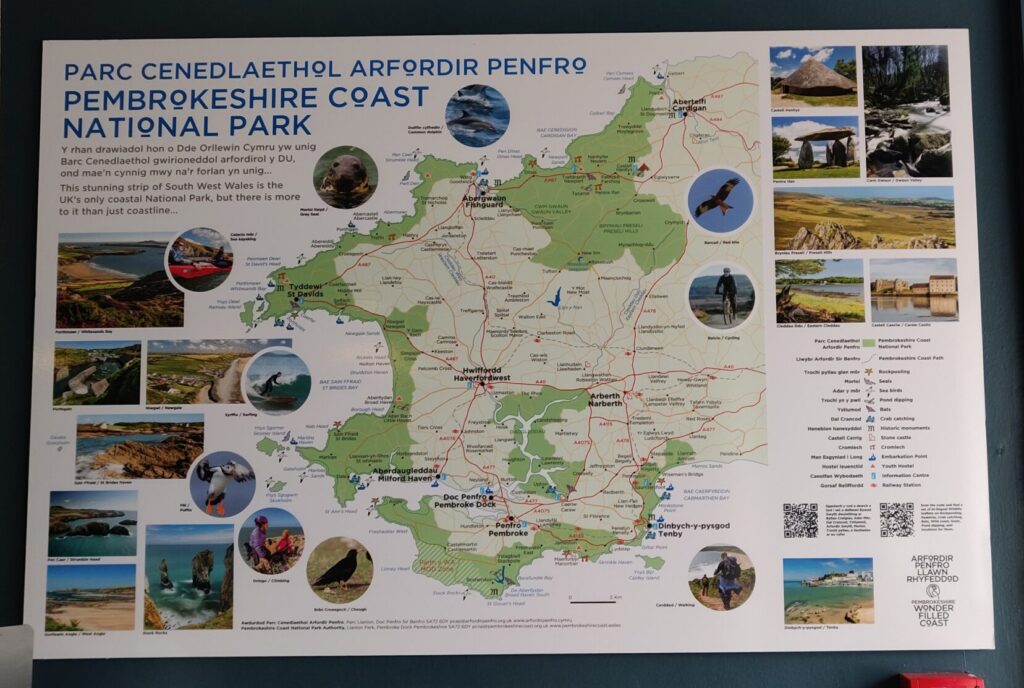 Our plan was to visit Skomer during the day and reach Broad Haven by evening, cook some easy dinner, and call it a day. The only problem in the plan was that the common kitchen/cooking facilities at YHA were closed due to Covid regulations. Again, we decided to wait and see what happens and decide accordingly. There was nothing else to do. If the regulations stipulated something, we had to stick to it. We decided that if we can't cook, we will eat out that night and order breakfast at the YHA cafe for the next morning.
The D-day
Although the government lifted almost all restrictions (thankfully) by the day of our journey, it was clear that the 'cooking dinner' part will not work out as YHA had told us that the common kitchen will not be open during the time of our visit. So, we decided to eat out that evening. And since we won't be able to cook, we'll have to eat the breakfast next day at the café.
YHA had suggested we order our breakfast well in advance so that they can plan for every guest better. Again, the smart thing seemed to have the breakfast from there as we might not find any restaurants early in the morning – and that's exactly what we did. We ordered an English breakfast for the next morning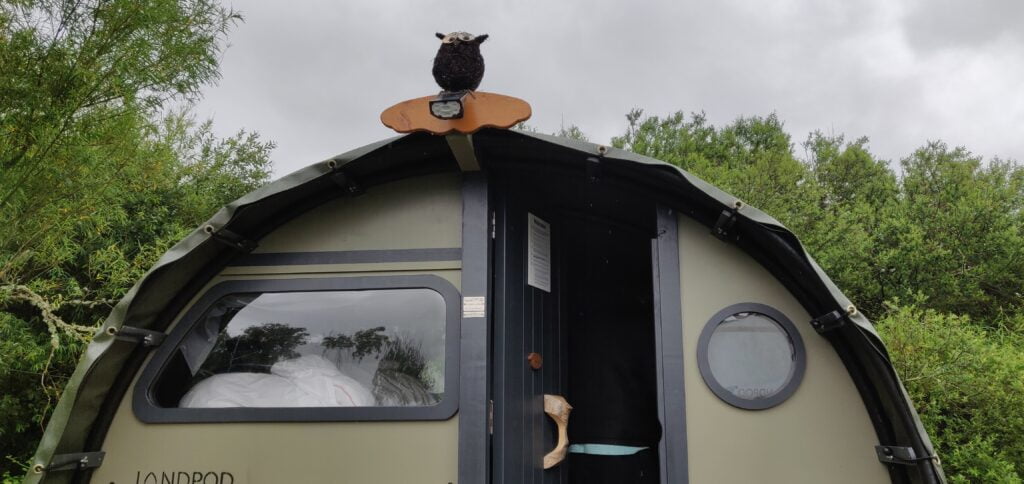 So, when the day finally arrived, we set off from Liverpool at 5 in the morning, reached Martin's Haven by 10.30, boarded boat to Skomer by noon, arrived back at Martin's haven by 5 pm (you can read about all of it here and here), and reached YHA Broad Haven by 6 pm. We completed the check-in formalities and were soon in our pod. Exhausted to the core, all we wanted was to hit the bed. But, we had booked slots for showers (it being a common facility) and so we couldn't afford to miss it.
Settling in the Landpod
Once inside, we drained off the remaining coffee from the flask we carried from home and lounged around outside – inside the pod, there wasn't really much space to stretch our legs. Anyway, soon our slot for the shower arrived and it felt heavenly to wash away some of the tiredness from our bodies… Feeling somewhat refreshed, we thought about our next course of action.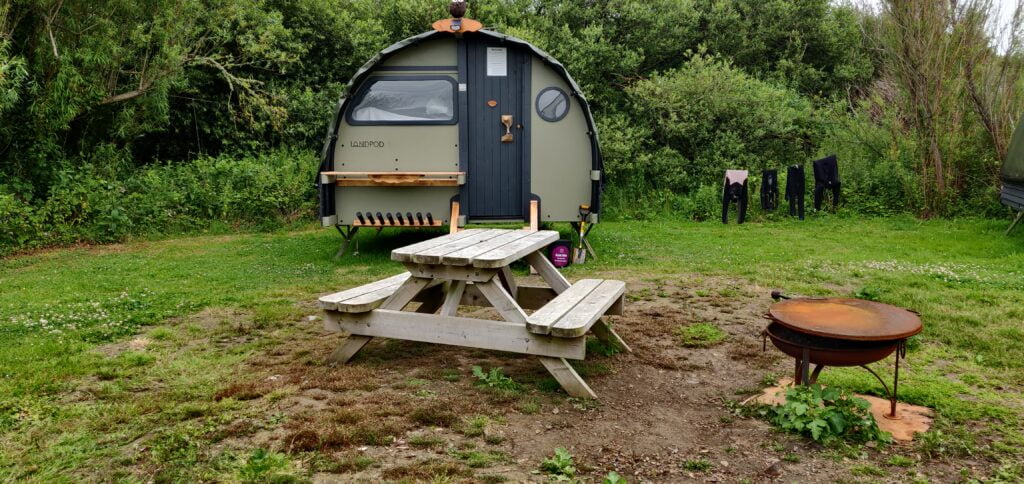 There were two options – we could drive to the town and find a restaurant to eat our dinner or we could dine in at the YHA café. The former option seemed ominous as we had to drive again, search for a restaurant (which, most likely would need a pre-booking under the circumstances), order our food, and head back. It would take at least an hour or two. In contrast, eating at the YHA café seemed more practical and comfortable.
The only problem was, we hadn't pre-booked our dinner, so our choices might be less or nil. Also, the kitchen would close early – or that's what we were told at the reception when we checked-in. So we hurried to the reception to find if it was possible to arrange a somewhat 'late' dinner. Luckily, we could, and so we happily ordered our dinner and felt relieved that we didn't have to go out into the town for food…
Dinner & Sleep
We ordered a couple of pizzas, a jacket potato – Mediterranean salad combo, a falafel burger – chips combo for dinner. Soon, it was dinner time and we headed to the dining room and sat down to enjoy the meal. It was tasty and fulfilling. The setting was really nice – the dining hall offered a good view of the nature outside. Our stomachs and minds thus full, we retired to the pod and soon we fell asleep like dead logs!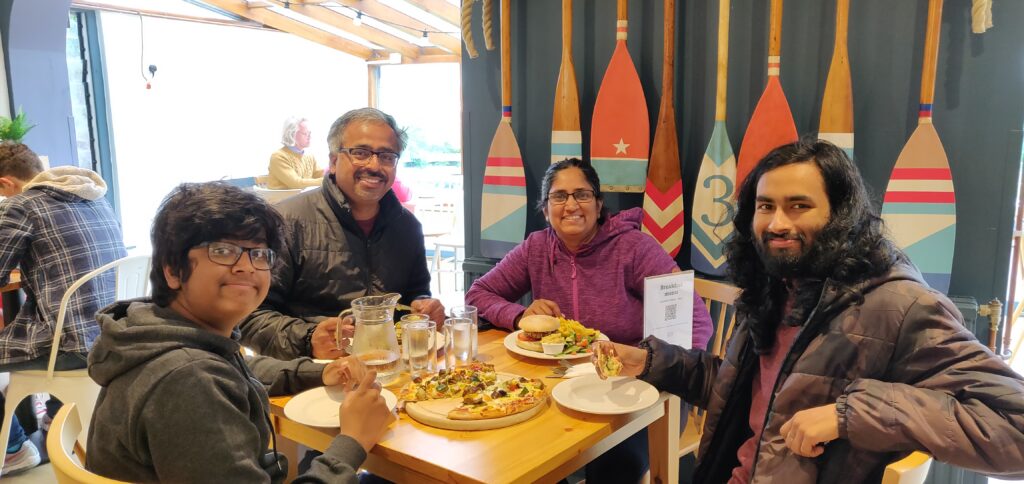 Sometime during the night, it started drizzling. The sound of the rain felt melodious and soothing we drifted in and out of sleep – half-conscious of the beauty of it all and half-asleep…
Morning
And as the dawn came, so did the dawn chorus. It felt wonderful to be waking up to the sound of birds and feel the fresh, crisp air. We would have loved to walk around a bit – but the rain was somewhat relentless…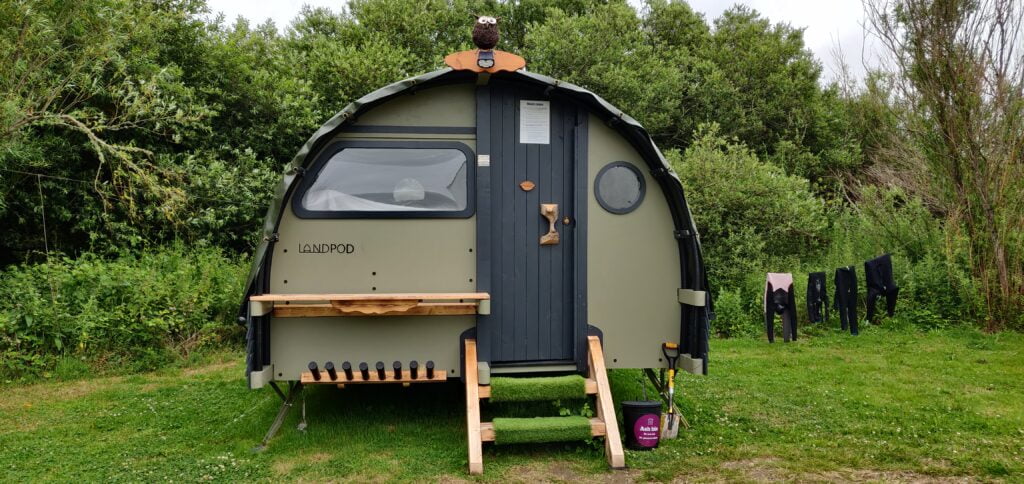 Anyway, we decided to get going – we took our morning showers and freshened up. Soon, it was time for our breakfast, so we headed to the dining area once again. There a scrumptious English breakfast (toast & butter, sausages, beans, tomato, hash browns) awaited us. We took time to enjoy it and soak in the atmosphere. Several people came in for the breakfast and the atmosphere was lively with kids and families adding to the charm of the place.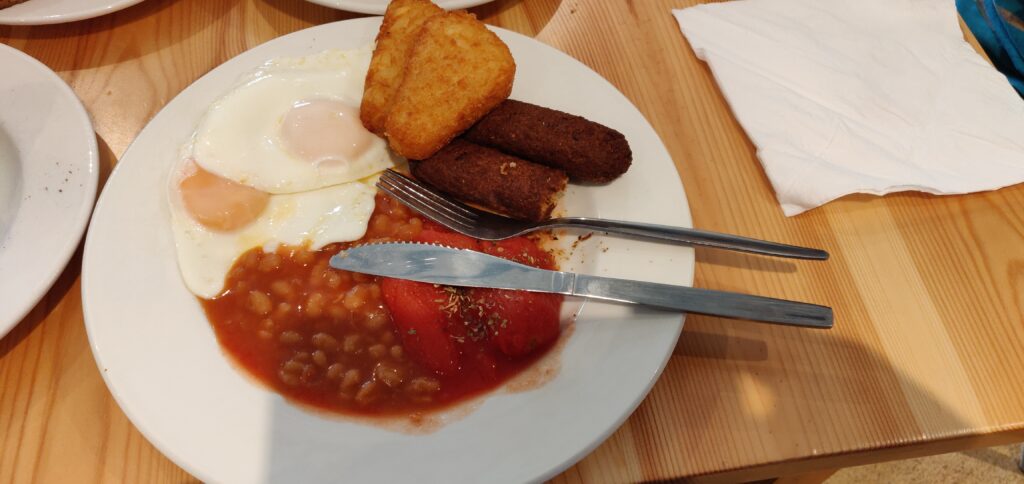 Breakfast over, it was time to pack up as our check out time was slowly approaching. We walked around the premises a bit to enjoy the scenery and the bird sounds. Then it was time to pack our bags and check-out. There was a light drizzle as we headed out towards the reception to check-out – as if nature was sorry to see us go. Anyway, we headed back to Liverpool with our hearts full with joy from the wonderful experiences we had during this trip.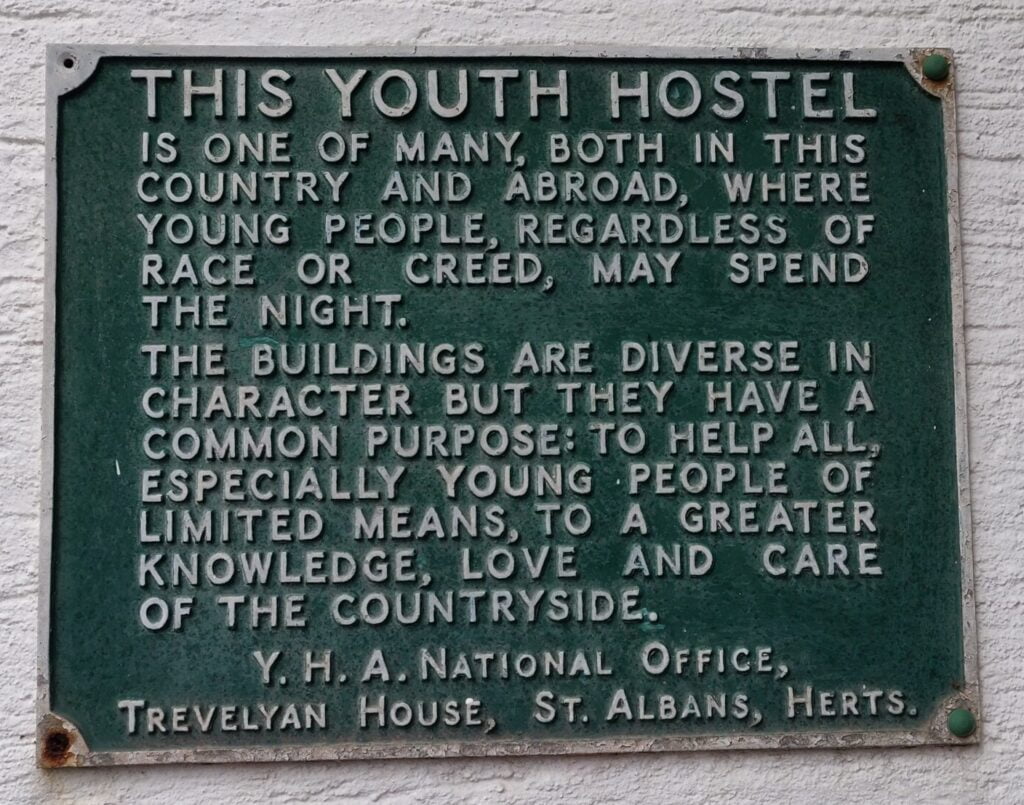 You can watch the video of our glamping experience here
PS: The landpod is managed by YHA, an international charity. You can know more about YHA here