What to do in Edinburgh, Scotland? This might be one of the common questions every visitor to this amazing city have in their minds. This blog is an attempt to answer this question. What's indisputable is that Royal Mile walk is a must if you are in Edinburgh.
However, before we start, we must warn you that these are based on personal experiences during our visit to Edinburgh backed up by some research in preparation for our own visit to this much loved city.
In this blog, we will list some of the attractions you come across as you stroll along the royal mile. Again, this is not an complete list – a native of the city or a professional tour guide might have an exhaustive list. However, if you are a first time visitor, we believe that this blog will help you to know about the most important sights along the Royal Mile.
Royal Mile – Connecting the Holyrood Palace and Edinburgh Castle
Without further delay, let's start our walk – Our starting point is the Holyrood Palace and Scottish Parliament we'll show you some of the must-see sights of Edinburgh. Royal Mile walk is like no other. Here we see an amazing blend of the old with the new. As we walk along the cobbled streets after a quick look at the symbols of both monarchy and democracy, we are ushered into a magical world – truly one of its kind.
First, we see the 'close's and 'wynd's and learn the reason behind the strange names. Close was closed to the public – as it led to private, gated properties which could not be accessed without permission. Wynd was a thoroughfare used freely by the public. As we descend thorough the closes and wynds we will be astonished to find unexpected sights – it is like discovering a world within a world. Climb down the unsuspecting flight of stairs to land in a completely different set up. You'll feel you left Royal Mile and entered another world altogether.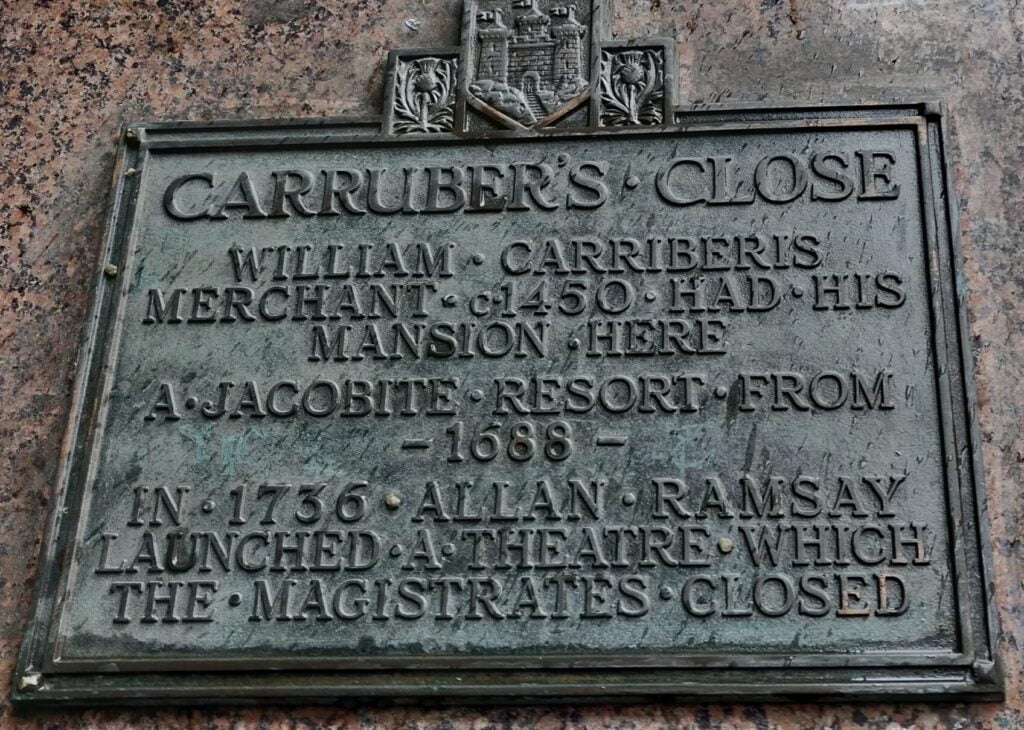 Royal Mile – Shopper's Paradise
Once you have explored enough closes and wynds, proceed along the royal mile to enjoy some window shopping. There are dozens of shops selling curios, mementos, gifts and other little things you would love to take home to remind you of your visit. If you feel you need something to energise you, pop in to one of the numerous eateries along the way. Better still, visit one of the pubs or taverns to enjoy a drink or two along with some fascinating stories of its origin. Some, like the Old Tolbooth Tavern are rumoured to be haunted – look up the stories if you enjoy good old tales.
Not into myths and tales? No worries – there are numerous museums to quench your thirst of knowledge. Visit Museum of Edinburgh or Museum of Childhood – first of its kind in the whole world- to satisfy your urge to know more. Writer's museum, People's museum and, if you don't mind wandering off a bit from Royal Mile, The Dynamic Earth and the National Museum of Scotland are also worth a visit.
Do you need some traditional clothing? Well, there are so many shops specialising in kilts and tartans that you'll have trouble choosing. You can buy some tweeds, cashmere and more from some of these iconic and long-standing establishments. If you are low on energy, head to fudge house and enjoy some of their delicious fudges – there's a wide range of flavours to choose from.
Hiding in Plain Sight- Remnants of the Past
Hey, don't rush off – that's not just a random collection of stone in front of you – it is the oldest surviving wellhead. People used to line up here to collect water for their daily needs. Nearby the wellhead stands the Moubray house, which is the oldest residential building. The John Knox house nearby is not new either. Both the buildings have stood the tests of time. So make sure you pause and take a good look at them.
Remember, it is never too early to do Christmas shopping when you are at the Nutcracker Christmas shop.
Tardis, you say? Nah, that old police box is the ticket counter of Edinburgh City Tours. Not a cheap box though – someone paid more than £100000 for that! Can you believe it? Talk about expensive real estate…
St. Giles Cathedral Premises
Make sure you stop at the St Giles Cathedral to admire the building – its interior is even more pretty. Don't forget to see Adam Smith's statue near by. Most of you must have heard about the father of modern Economics. Even if you haven't, do spare some time to admire his statue.
Explore the premise further and you'll find more interesting stuff here, including statues of some interesting people. Not a great fan of them? No worries, carry on along the road sloping up. And no, that's not a church up ahead where the road forks. It is the Hub – an art and entertainment building. Yes, it is the highest point in central Edinburgh.
The Hub and Camera Obscura
As you walk past the Hub towards the Edinburgh Castle, you are sure to come across Camera Obscura on the right hand side. It is a must visit. If you can't go in, make sure you have some fun looking at those installations outside… We bet you can't help laughing at your strange reflections.
The Edinburgh Castle
And finally, go on and enjoy the awesome sight of Edinburgh castle perched upon the hill. Breathtaking, isn't it? We shall leave you in peace to soak in the atmosphere and enjoy the majestic view. If you wish to go inside the castle, don't miss out the next part of this blog.
If you have no plans to go inside, then head back down to castlehill to enjoy the walk back. The walk is far from over. There is more to see and do on the Royal Mile. Read our next blog to find out all about it.
Click here to see the video of this walk