Mam Tor walk in the Peak District is definitely one of the must do items for anyone visiting the Peak district. There are several routes leading to Mam Tor and you can choose one that suits you the best. All the routes are circular and they take you to the summit of Mam Tor where breathtaking views of Hope Valley awaits you. Hiking to Mam Tor is a great way to experience Peak District.
Our Plan
We visited Peak District during the last bank holiday weekend to go on the much awaited walk. Mam Tor walk looked doable and from the blogs we read and the vlogs we saw, it looked an enticing walk. Unlike our past trips, we took things slow and so we chose a longer route of around 7 miles or so. Our plan was to start around 9 in the morning and walk leisurely enjoying the views and reach back by around 6.30 in the evening or so.
We started from Liverpool later than we intended – 7.50 am instead of 7 am we originally thought. We arrived at Castleton around 9.30 am. The weather forecast said the day would be cloudy with low winds. The moment we stepped out of the car at the Castleton visiting centre car park, we knew it was going to be colder than we expected. Time to get into trousers and wrap an additional layer to keep the cold away.
The Car Park and Visitor Centre
The car park at the visitor centre is reasonably big, but it is difficult to find a spot if you arrive late. Luckily, we were earlier than most of the visitors. We parked the car, paid and displayed the ticket and ate the sandwich we carried with us for breakfast. The black coffee felt heavenly in that slightly cold atmosphere.
TIP: Parking charge is £6 for 6-10 hours – the ticket machine accepts only coins and no cards. So do carry enough change if you are planning to park at the visitor centre car park.
As we were fuelling up for the day, more cars arrived and soon the parking lot was full. We saw people of all ages and abilities – young and old, families with kids and dogs… Most of them changed into their hiking boots/walking shoes, put on an extra layer or two before going on their way. We finished our breakfast and headed to the toilets to freshen up. We knew there were no toilet anywhere on the way and so it was logical to use the loo before we started off on our adventure.
TIP: The café at the visitor centre opens only at 10 am. If you arrive early, you might have to check out other places for food. Better still, carry something from home so that you don't have to wait for the café to open. That way, you can start early and visit the café after the hike to enjoy some warm food.
Hiking to Mam Tor – the start
Soon, we hoisted the backpacks on to our backs, carried our cameras in hand – ready to shoot any interesting sights – and set off in the direction of YHA. We had read that the trail from near YHA is really beautiful and will take us to Lose Hill, Black Tor, along the Great Ridge to Hollins cross, and Mam Tor. We can then take one of the shorter trails to climb down and reach back at the car park.
So, we set of earnestly in the direction of Lose Hill Hall. It is roughly around a mile from the car park. We thought there was a path just beyond the YHA property entrance, but couldn't find any. Since we knew we were going in the right direction, we continued on the path. Even so, we asked around a couple of times. Someone told us there will be stiles ahead which we can follow, but we failed to find any. Eventually, we saw a couple walking their dog and they were kind enough to guide us properly.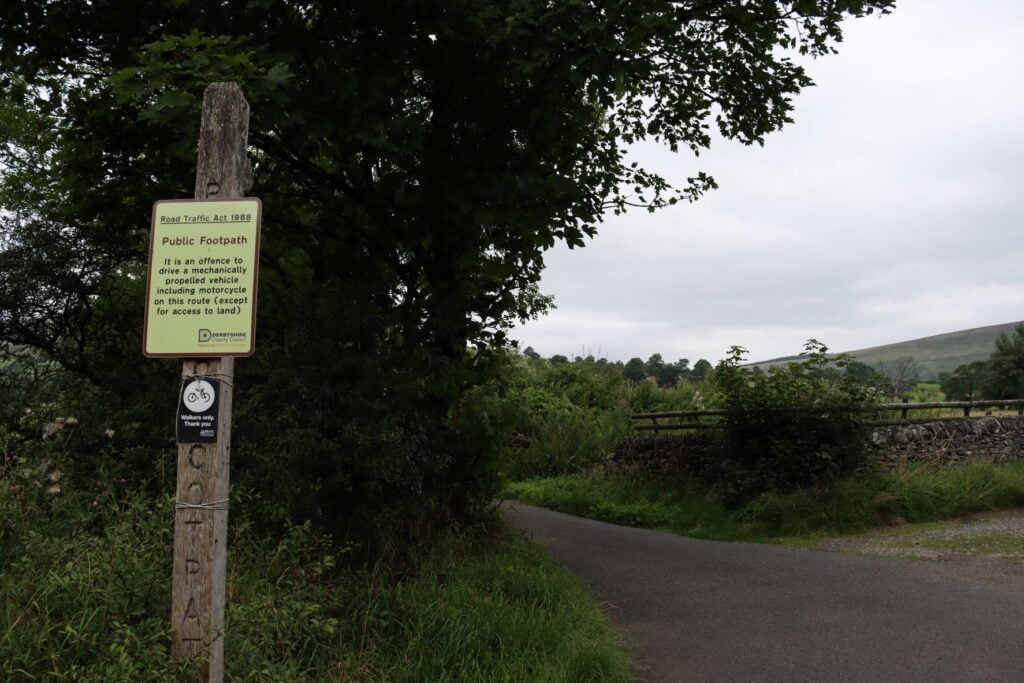 Unexpected Encounters
Following their instructions, we pressed ahead and reached a spot where we saw a board saying public footpath, exactly as they had told. The road was tarred (surprisingly) and we walked along it joyfully. A little further, we saw a little girl picking blackberries along with her mom and grandpa.
We stopped to chat with her and she joyously informed us she was going to make a pie with the berries – probably some jam too. She happily showed us her collection of blackberries and her fingers and mouth that turned red, thanks to the many berries she picked and ate.
We asked her grandpa which is the best way to go to Mam Tor via Lose Hill and he was kind enough to give us the details. He also talked about the village life, the changes that have happened, an upcoming film shoot (Game of Thrones) in the area, the paragliding and problems created by irresponsible visitors and more. He also told us about a particular Lady in the village who does not venture out of her home during the day for the past 40 years or so. At first, we thought he was just kidding, but he assured that he wasn't.
Farm House on the Way
After spending some time talking with the wonderful trio, we set off towards Lose hill. We followed the instructions, reached a farm and walked past it. Of course, we peeked into the stables to see if there were any horses, but they were empty. However, as we climbed up the path, a horse came trotting to the fence and put its head out in greeting. It was such a beautiful animal that one couldn't help touching it. A few gentle strokes on the forehead and we moved ahead on our way – the horse too went back to grazing.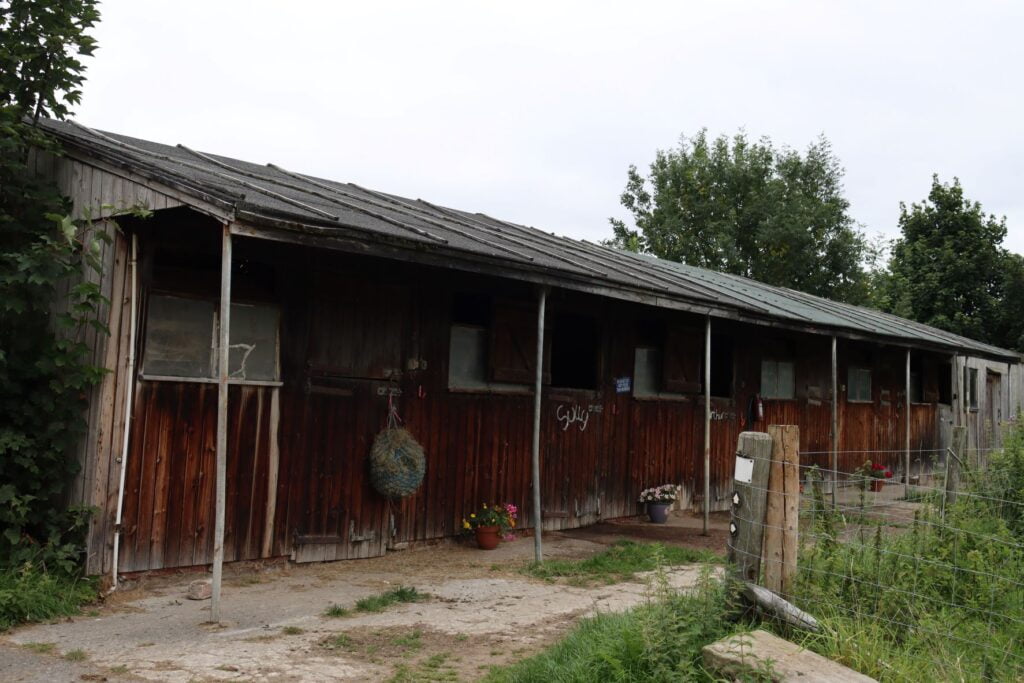 The Walk Uphill
The walk uphill was tiring – we rested every few minutes/metres. Sometimes, a stop to click a picture was an excuse to catch the breath. Slowly and steadily we moved up. Soon, we came across a field and decided to follow the path shown on the sign board there. The climb was pretty steep and took all the energy we had in us to keep going. Soon, a pit stop became necessary and we sat down in the grass – the view was beautiful as we looked down from the height. But we knew we were no where near where we wanted to be.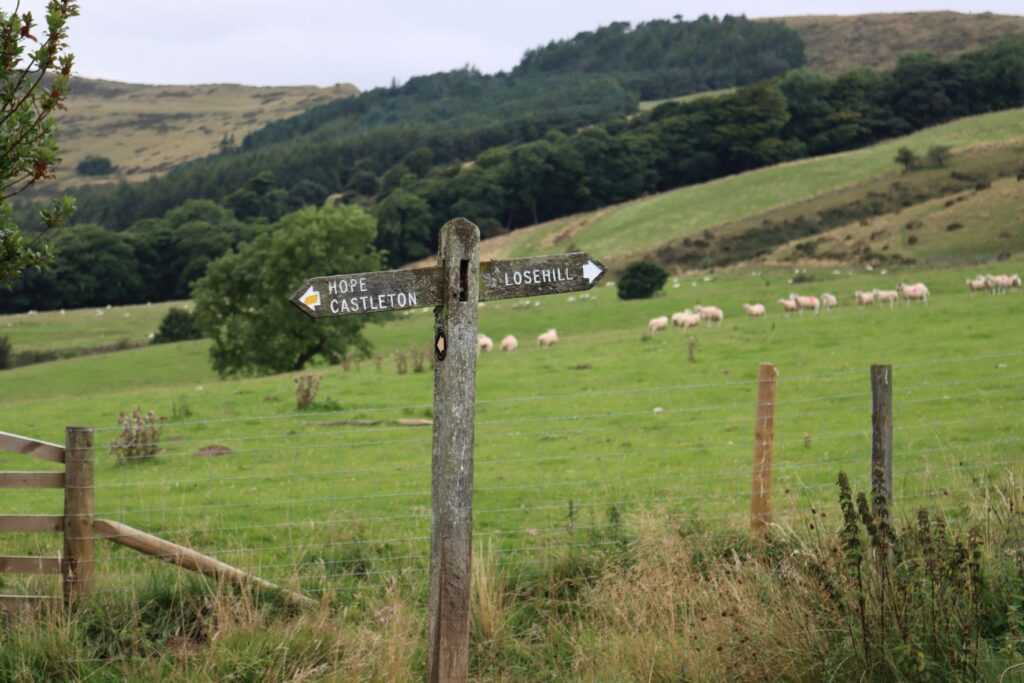 After catching our breath and enjoying a bit of scenery, we set off again. Several people passed us on their way up or down. Almost all of them had a dog with them. We progressed painfully slow, taking a breather every 50 metre or so. Soon we arrived at the top of a hill. From there we could see that another steep climb would take us to the top of Lose Hill.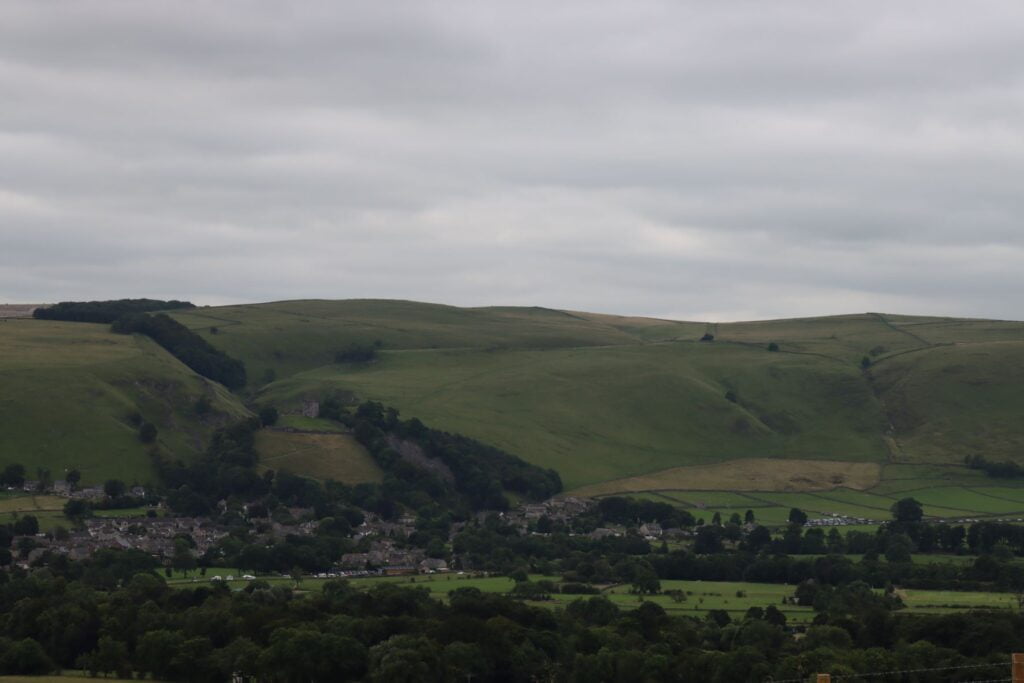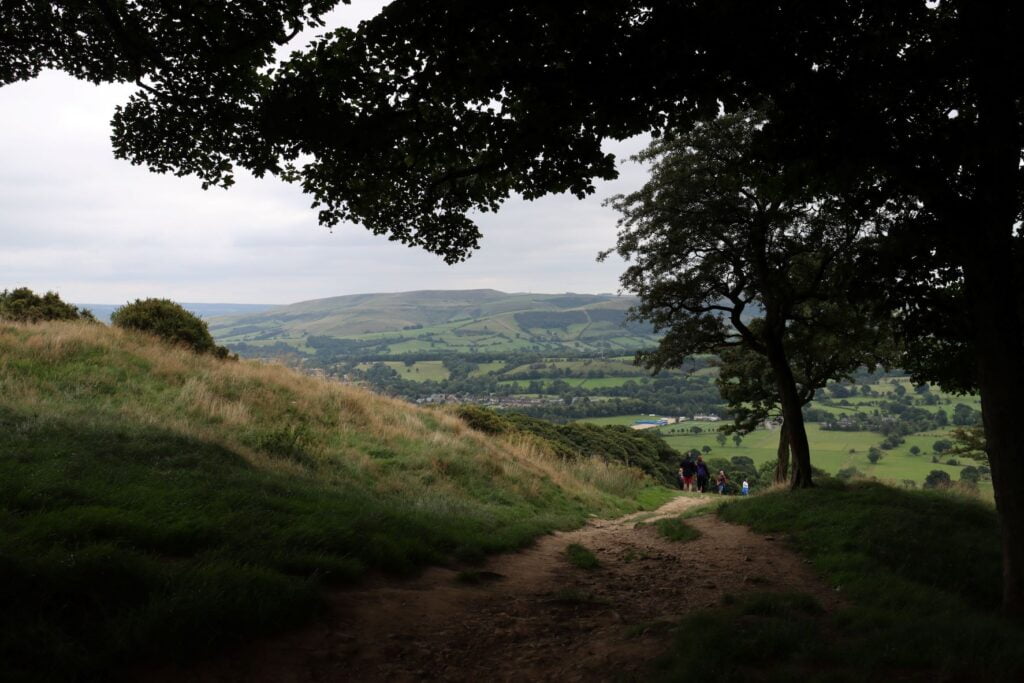 At Lose Hill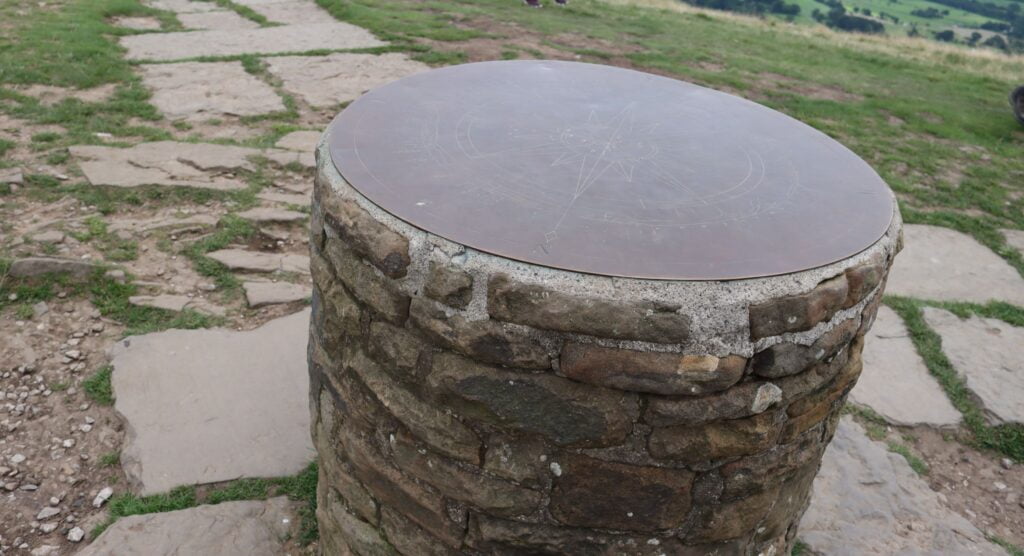 After a few minutes' rest, we resumed our climb. This time we had to navigate some steps up the steep hillside. Huffing and puffing, we arrived at the summit of Lose Hill to some awesome views. Suddenly, all our efforts felt worthwhile.
As we saw the large cylindrical stone (it had something like a compass on it, pointing towards important sights) at the summit, we could feel a rush of energy returning to us. We spent some time there, soaking in the beauty (& catching our breath), clicking some snaps and doing all touristy things. The wind was too strong there that it almost knocked over our camera as we were trying to film ourselves… Luckily, we were standing close enough that a quick reflex action prevented a mishap.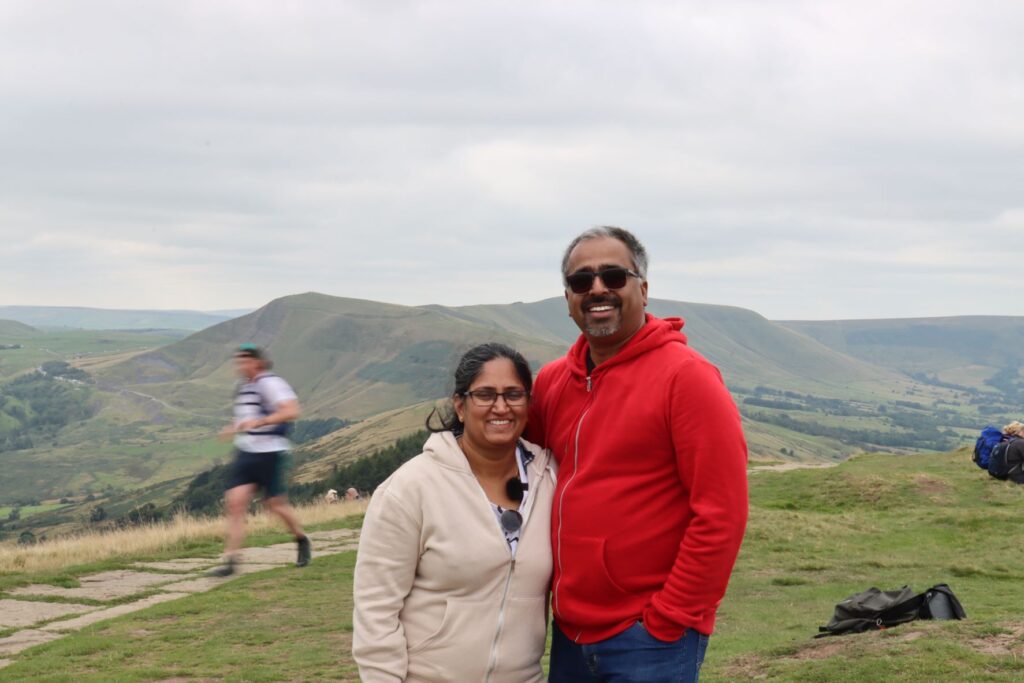 Although we would have loved to stay on Lose Hill longer, we knew we had to resume walking sooner if we want to reach Mam Tor by evening. So we set off again, this time navigating the treacherous path along the hill (well, not so dangerous, but what's life without some drama?) We walked down cautiously, conscious of each steps and taking time to enjoy the beauty of the nature around us. As expected, the day was cloudy with the sun breaking out of the clouds momentarily.
Scenes on the Way
Down the hill we went only to climb up again – thankfully the climb was not as steep as before. On and on we went along the ridge, mindful of each step and appreciating the unmatched splendour of nature. On the one side, we could see Castleton village, Winnats pass, Peveril Castle and other attractions. The other side had beautiful views of valley, including a small reservoir and occasional train passing along the tracks.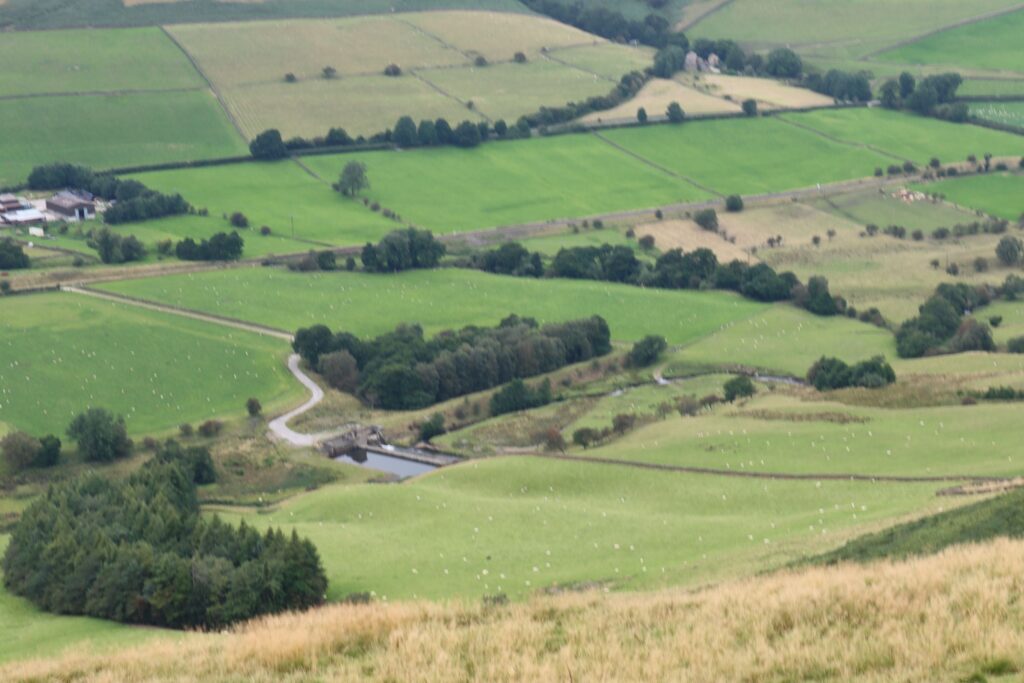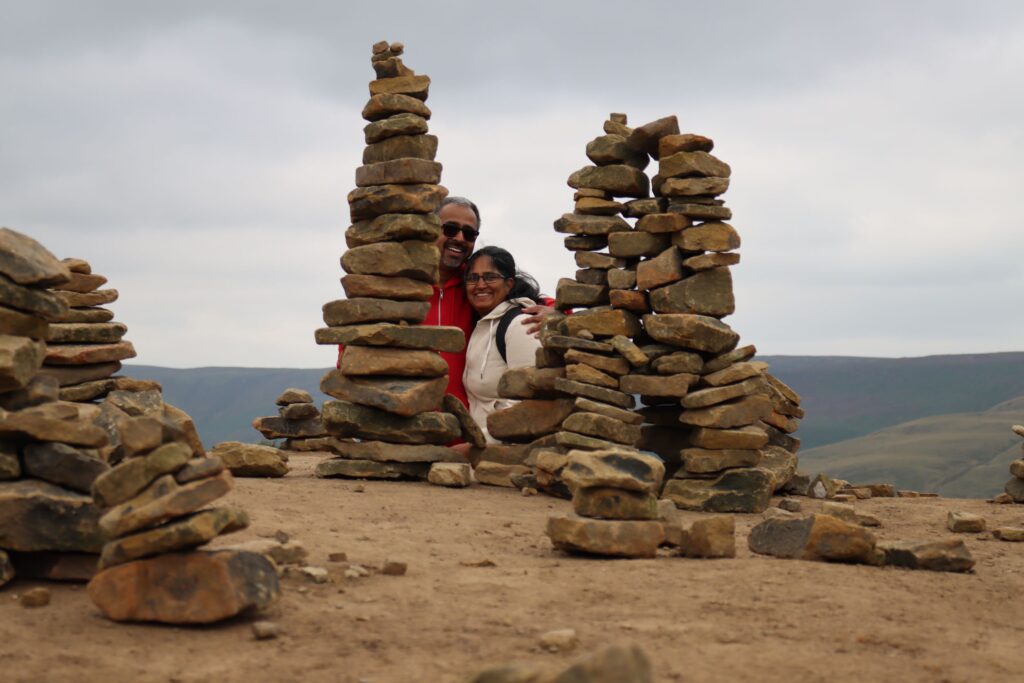 Black Tor
Soon, we arrived at the summit of Black Tor and was greeted by a strange sight. There was a collection of rocks balanced on one another. We were not sure who did it or why. Our best guess is that someone took few stones from the pile (we saw quite a few along the way) and balanced it there for fun and soon other hikers started doing it too. Anyway, the stones made an interesting pattern. People were clearly amused by it. Everyone – including us- hurried to take snaps in front of them or with them. It was fun to watch people trying different angles and creative ways to click those installations…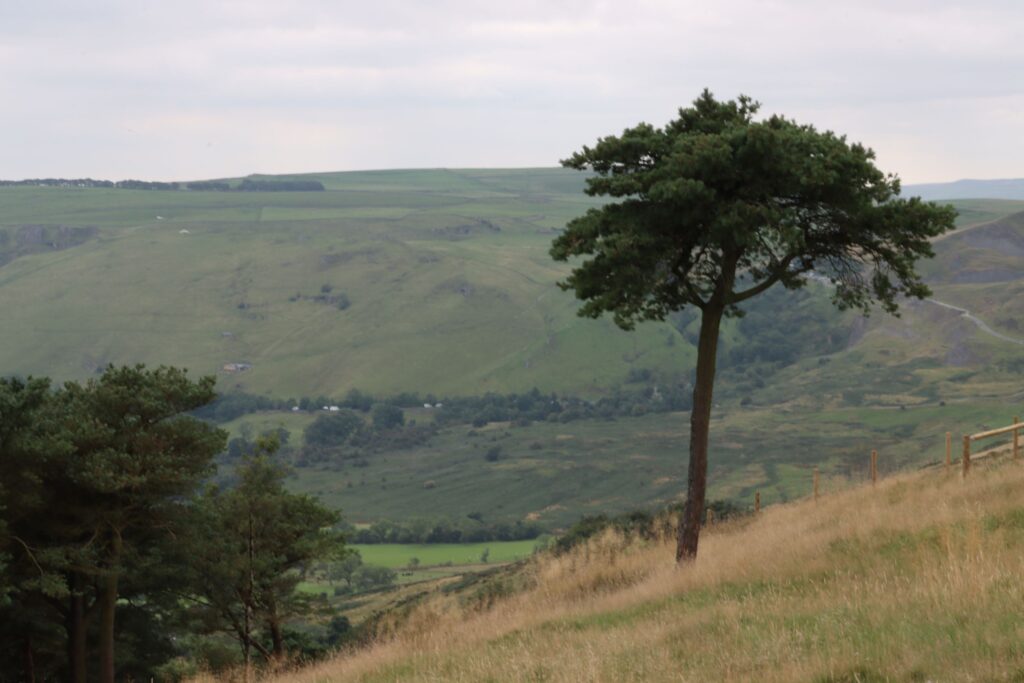 Another notable attraction there was a lone pine(?) tree. It stood near the summit, away from the group of trees a few meters down. It seemed like a rebel tree trying to break away from the ordinary. Although under the present circumstances, it felt more like an exemplary tree practicing the art of social distancing!
We felt it was the right spot and time to eat our lunch. Out came the pack of falafel wraps, which we washed down with lavish mouthfuls of orange and apple & mango juices. Stomach and mind thus full, we set off again. (Of course, we took loads of pics and videos).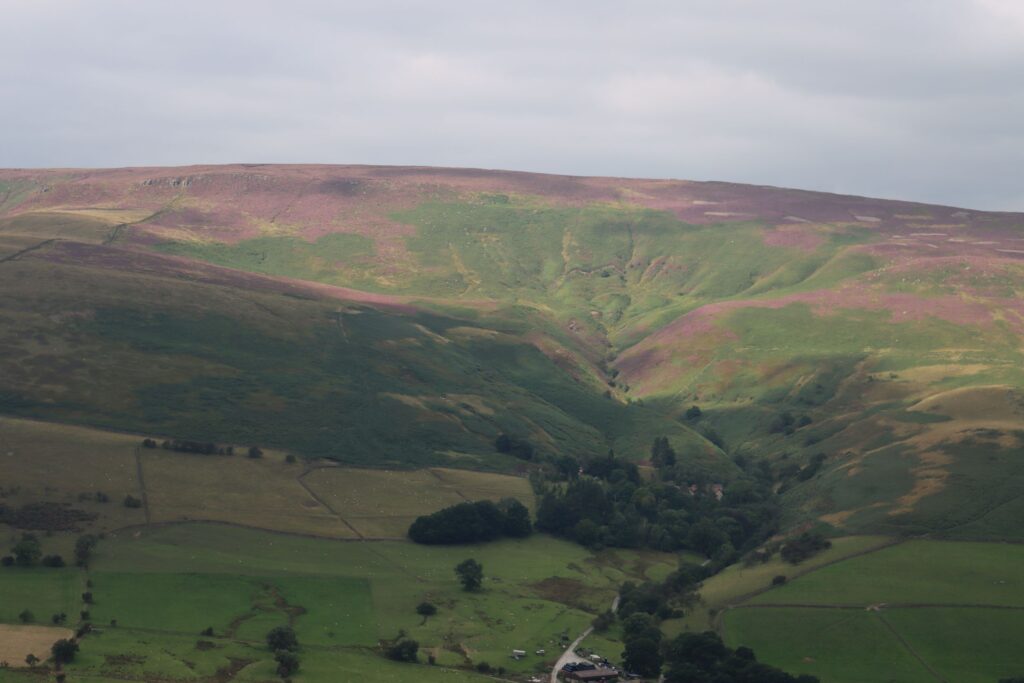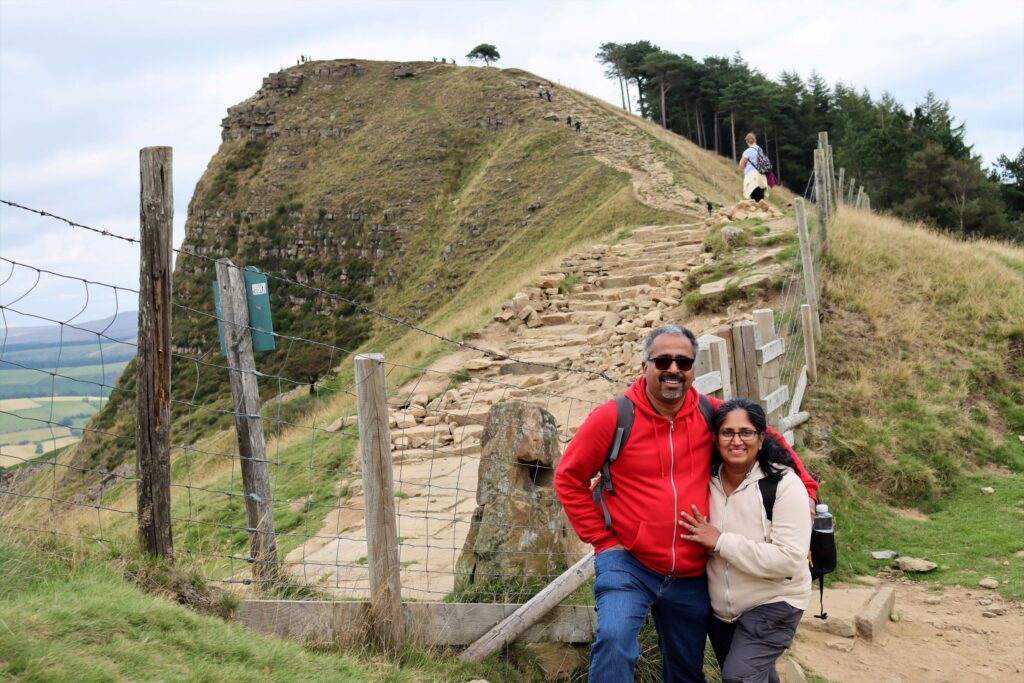 Half-way Through Hiking to Mam Tor
The descend from Black Tor was kind of tricky with some uneven steps running down steep. Slowly we climbed down them and reached a gate beside which was a board with directions to Mam Tor via Hollins cross. We passed the gate and it was only when we turned back to look at the hill that we realised what a steep drop it was. Glad that we had to climb down instead of up, we turned towards Hollins cross.
On the right hand side, we could see views of Castleton and beyond. There is nothing more pleasing to the eyes than the sight of endless rolling green hills. However, far away, there was this factory with its huge building and a chimney like structure that stood out like an eyesore – everything else was picture perfect.
At Hollins Cross
We soon arrived at Hollins cross. The name derived from a cross that used to stand there in the olden days. The little girl's grandpa we met earlier in the day had mentioned that the cross is now installed at the local church in Hope village. Currently, we can only see a stone marker. A group of children were sitting on it and so we couldn't get a closer look at it.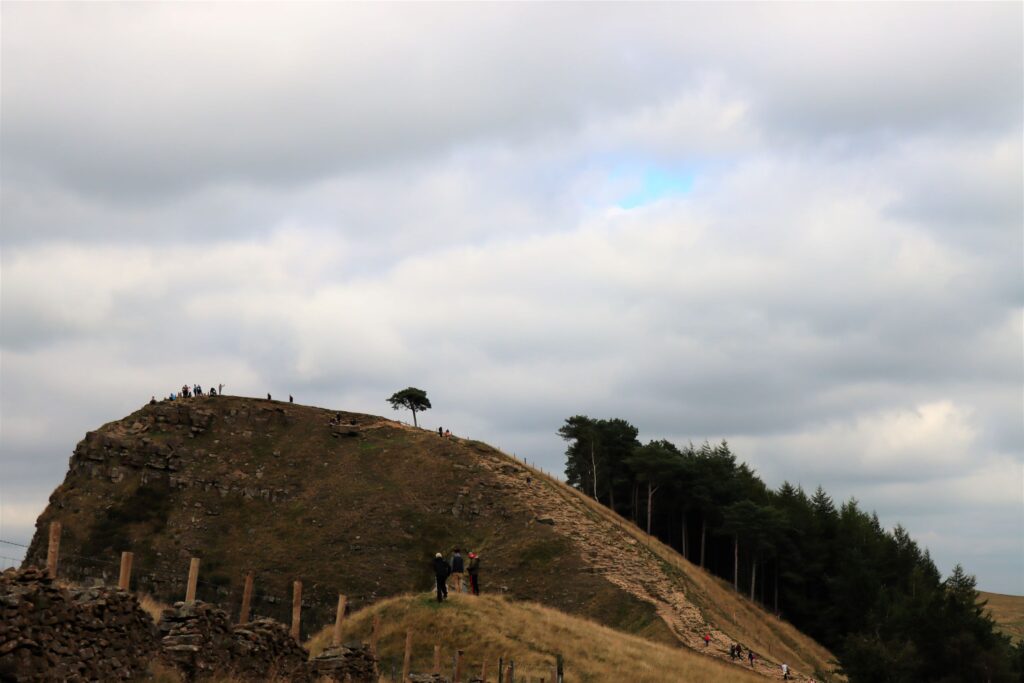 It was getting late and we were running slightly behind our schedule. So we did not spend much time at Hollins cross and headed towards Mam Tor. The climb wasn't too difficult. But our legs began to feel heavy and breathing too was getting a bit laborious. We walked slowly but steadily. However, there came a point when a break was essential. So we sat along the path and drank some juice, ate some candy, and rested for a while.
After five minutes or so, we felt well rested and set off on the last leg of climb towards Mam Tor summit. On our way, we saw the stretch of old road lying in disrepair. The road was broken because of earth's movement. Each year the tarmac had to be repaired. There is a 2-meter high tarred portion of the broken road for all of us too see how powerful nature is. No matter how much we try, humans cannot control nature. It always has the last laugh.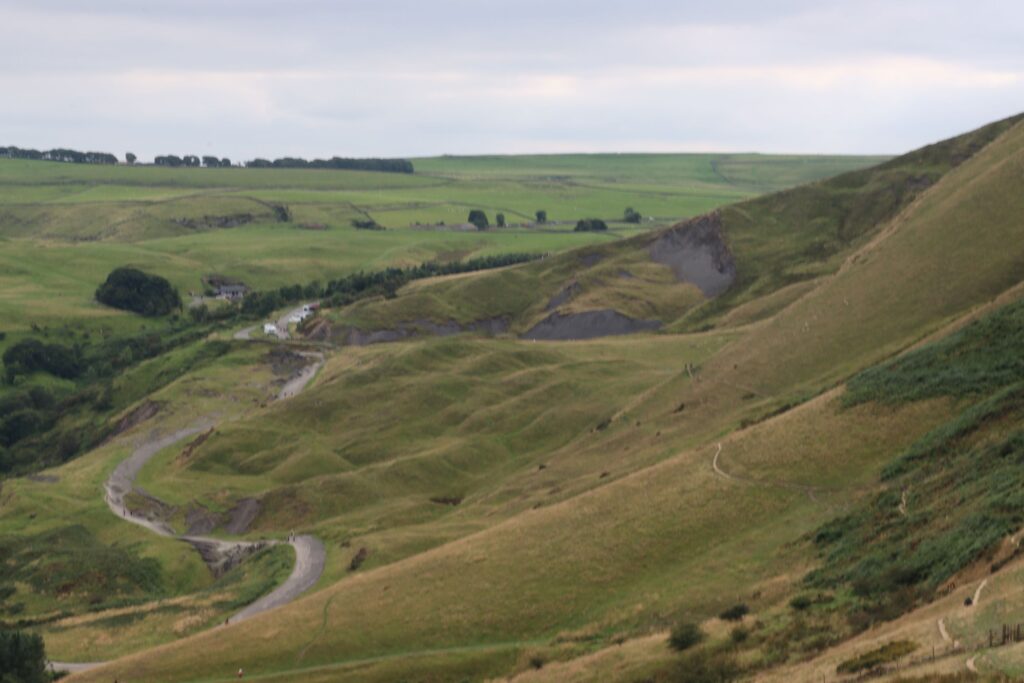 The Final Summit
Slowly, we inched towards the summit and finally, reached the top. It was exhilarating to touch the marker at the top and the view was fantastic. As we looked around, we could see amazing views all around. The evening sun didn't dare to come out from behind the clouds, but some of the sun rays did peep out, giving it a surreal feel.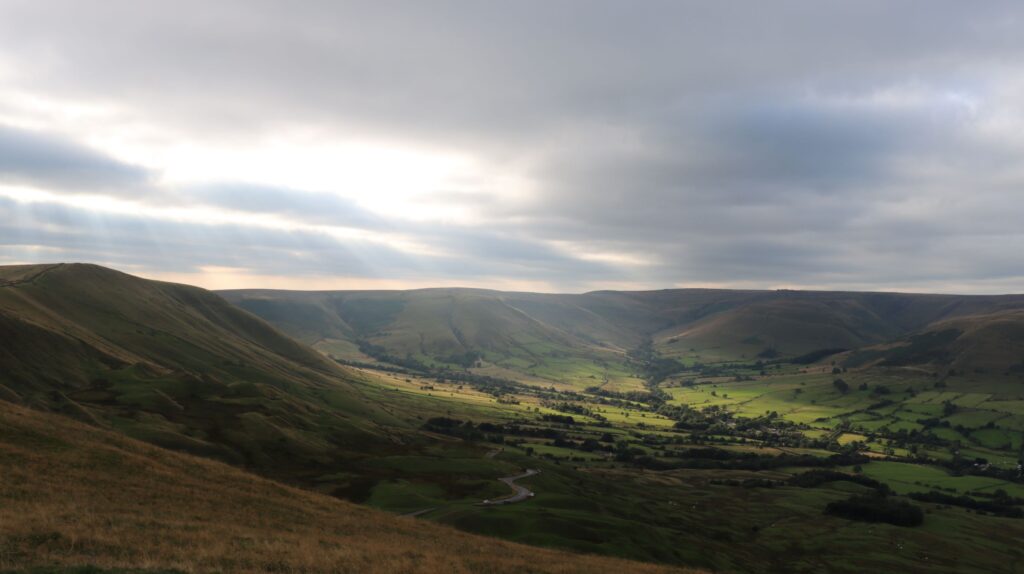 We spend quite a lot of time enjoying the views, filming and clicking snaps. Standing atop Mam Tor or the 'Mother hill' and looking down upon the smaller hills felt quite special. To think that we were on top of a hill which is known for earth's movement even during recent times felt incredible. We saw the baby hills (hillocks) nearby, all of which formed due to the shifting of earth. As we watched it, we felt humble and lucky for the opportunity to see some of the marvels of the nature.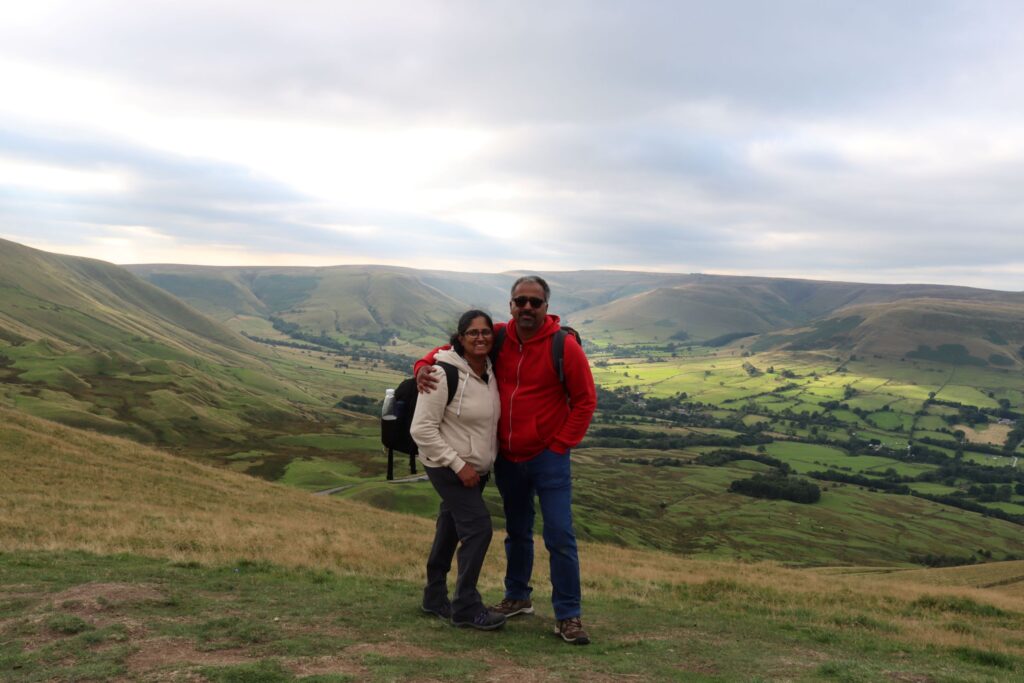 An Eventful Descend from Mam Tor
Soon, it was time to bid bye and start our descent. We asked around for the easiest and shortest path down, but couldn't get a conclusive answer. Even the google map was of no real help up there. We took a leap of faith and climbed down a rather steep pathway just beside the summit through which we had seen a group of people ascending some time earlier. As soon as we started climbing down, we realised it wasn't going to be easy – it was more of a sheep path than an actual trail.
The footholds looked like giant elephant footmarks. But they made it possible to take assured steps. Even then, it was tricky to navigate the steep pathway. As we descended further, the legs started shivering, making it difficult to get a grip. Sometimes the knees locked too, making it difficult to bend them.
Some Birdwatching at Mam Tor
We were walking along a ridge by the side of Mam Tor and the view from this side was entirely different. The rugged hill rose above us in mammoth proportions and bared its dark belly. No wonder this side of the hill is called dark peak. Although dark and imposing, it had an eerie charm to it as well.
The vegetation was few and far in between, with the Heather adding some colour to the entire setting. We spotted a raptor flying around – perhaps hunting a small mammal. It was far away from us and so we couldn't identify it properly – a Kestrel maybe.
We reached at the final point of descend in 15-20 minutes and faced yet another challenge. There was another 10 meters or so to go. But there wasn't any definite pathway. There was no other way than to climb down cautiously – that's exactly what we did. Although we did lose our footing a couple of times, we managed to come down with nothing much than some small bruises (and a pair of tired legs).
More Walking to do
We arrived at the section of the old road where the tarmac lay broken and exposed. It looked sinister in the evening light. We wasted no time and pushed off towards Castleton as the evening was slowly turning into night. We took the rugged path from the summit in the hope that we could save some time (and distance) on our way to Castleton.
To our utter disappointment, we discovered that the path we chose gave us no such advantage. In fact, we had to walk some extra distance to get to the road. Talk about wasted efforts!!!
Slightly disheartened, we set off again, thankful that we are walking along the plain ground now. We had another 2 miles to reach the car park. We passed by the entrance to the famous Blue John Cavern and headed towards the Winnats pass road. As we reached a grassland, we saw a board showing 'public footpath'. Should we take that route or should we head to the main road?
We stood there for a couple of minutes unsure of what to do. Then we saw a group of people coming through the grassland and asked if the path led to Castleton. They answered in affirmative, but one of them said the descend would be too steep at the end. Another person in the group said it is doable and 'not that steep'.
An Unexpected Companion
Once again, we were in a dilemma. Just then we noticed someone behind us waiting to go through the gate and on to the path. We asked him if he was going towards Castleton and when he answered in the affirmative, we asked would he mind if we joined him. He said he had no problems. So we set off along the footpath chatting with him.
We talked about general things and soon he led us to Winnats pass. He was headed towards one of the hillocks to photograph the light falling on the hills during sunset. We wished him luck and carried on towards Castleton. Soon we crossed Winnats pass and arrived at the parking of Speedwell Cavern. We recalled visiting the cavern three years ago. After clicking a few pics of the surroundings, we headed towards the visitor centre – the last leg of our long walk.
Reaching Back after Hiking to Mam Tor
We arrived at the car park around 8 pm and got into the car. We had booked our accommodation at YHA. Another five minutes or so, we arrived at our destination. We were too tired to do anything else that we had our dinner and went to bed before 10 PM.
Some Trivia on Mam Tor
At a height of 517 metres (1,696 ft), Mam Tor is one of the most popular hills in the Derbyshire, Peak District. The highest point is Kinder Scout, but the Mam Tor walk is the most hiked one. It was voted the 10th best walk by the public in the top 100 UK walks.
Mam Tor is 'Mother Hill' – named thus because of the new mini hills that came up in the area because of numerous landslides. It is also called shivering mountains because of the frequent landslides. Furthermore, evidences suggest that during Iron Age Mam Tor was an Iron Age hillfort!
If you know more such interesting facts, do share them in the comment box. We would love to hear from you.
By the way, you can read some of our other blogs here.
Click here to watch the video of our hike. You can enjoy some breathtaking views.
How to Reach Castelton
By road: Castleton is 60 miles from Liverpool, 29 miles from Manchester, 92 miles from Birmingham, and 168 miles from London by road. The village car park is at the Castleton Visitor Centre, Buxton Rd, Castleton. The post code is S33 8WN
Train: You can also arrive by train. Hope (Derbyshire) is the nearest station. Kindly check the National Rail or Trainline for the train timings and ticket prices from your destination.