After spending a busy morning at Stow on the Wold, we headed to Sezincote India House and Gardens. It is a country estate in Gloucestershire, England, and is popular for its Neo-Mughal architecture. Its 19th-century reinterpretation of 16th/17th-century Mughal architecture draws visitors from all parts of the UK. We had read about it earlier and were curious to see the house and its famous gardens. So we decided to visit it during our Cotswolds trip.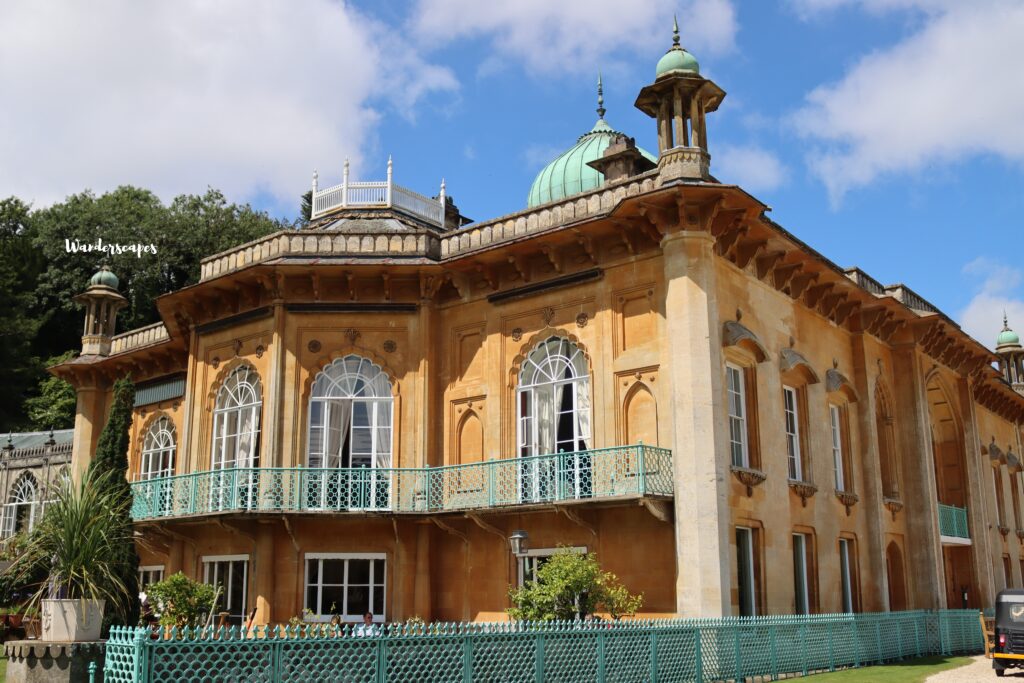 A Brief History of Sezincote
Before we proceed any further, we must tell you a bit about Sezincote's history. It all started when John Cockerell, a colonel with the East India Company bought the country estate in 1795. John Cockerell came back to England from Bengal after serving the 'company' for years. He was appointed to the military staff of Governor-General Warren Hastings in 1777. This could be the reason for his choosing Sezincote because it is close to Daylesford, Hastings' home. In those days, it was normal for the employees of the East India Company to settle in areas where former company colleagues, or relatives with EIC connections (John Cockerell's sister Elizabeth was married to Hastings' private secretary John Belli) lived.

Anyway, John Cockerell bought Sezincote in 1795 and started renovation as the Jacobean gabled manor needed repair. John entrusted the work to Samuel, one of his brothers. When John passed away in 1798, he left the majority of his property, including Sezincote, to his sister and two brothers. In 1801, John's other brother Charles bought his siblings' shares for a total of £38,000. He then transformed Sezincote into an 'Indian House'.
A Mughal Structure in England
Traditional Mughal structures are made in red sandstone and white marbles. However, in Sezincote, they've used stones from a local quarry. It is likely to have been artificially stained. The onion-shaped dome is made of copper. A Grade I listed building, Sezincote definitely manages to impress the visitors. It is quite a visual treat – perhaps there is no better setting for this splendid mansion than the vast expanse of Cotswolds.
Sezincote is not just about the building. It is a complete package in itself. Its onion-shaped dome, umbrella-shaped chhatris and chajjas, Mughal gardens, serpent fountains, Surya temple, and Nandi bulls guarding the estate all give it an Indian look and feel. And if someone who's been to India before, they can instantly connect with it all. Sezincote's tagline, 'India in the Cotswolds' is apt.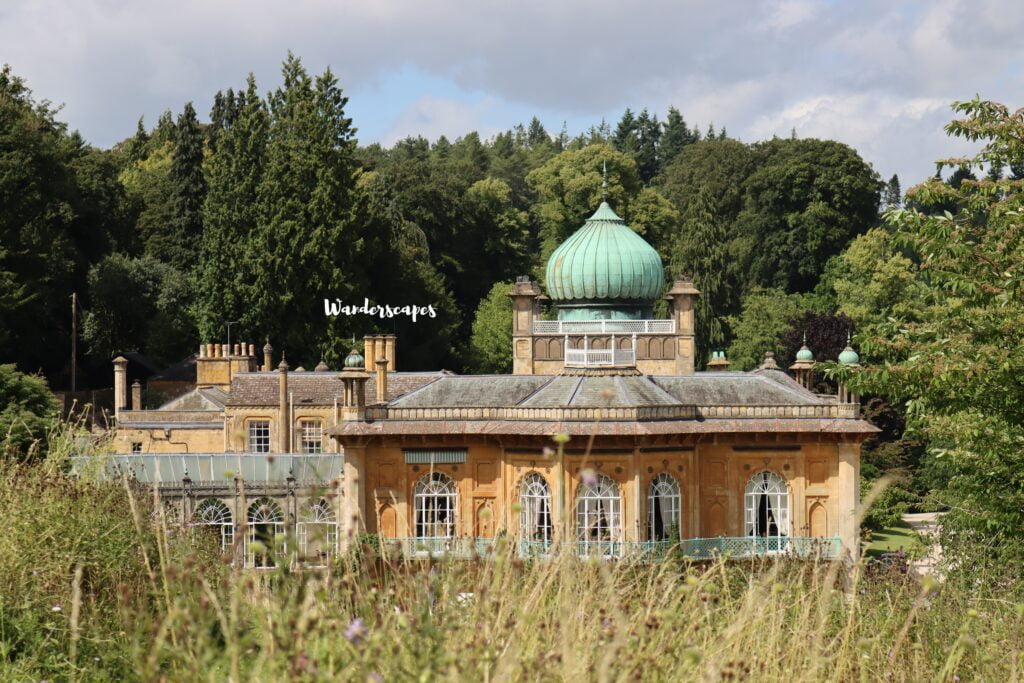 During his visit in 1807, Sezincote impressed the Prince Regent so much that he built the Brighton Pavilion in Indo-mughal architecture.
First Impression
We parked our car at the parking space and walked down a small hillside to reach a ticket counter. It took us around 10 min of leisurely walk to reach the ticket counter from the car park. We showed our tickets and entered the premises. The person manning the booth gave us a few instructions and a small leaflet.
Tip: There are a few parking spaces at the garden gate for the disabled or those with walking difficulties. But, if you can, the walk to the garden gate (ticket counter) is a pleasant experience. There are toilets near the ticket counter.
Soon, we entered the garden via a bridge called Indian Bridge. It has statues of Nandi and Kalash (scared pots) on both sides and gives out an Indian feel instantly. Beneath the bridge flows a small stream. On one side of the bridge is the Snake pond. It probably got that name from a snake coiled column at the centre of the pond. We stayed on the bridge for some time, enjoying the view and trying to anticipate the sights awaiting us next.
The Sezincote House
After a while, we headed towards the house, and soon it came into our view. The green onion-shaped dome caught our attention at once. We were hooked. Excited, we walked to the courtyard to get a frontal view of the building. There it was – a Mughal mansion in all its glory. It felt like we were back in India. Where else will you see an Ambassador classic and Bajaj Auto parked in front of a house?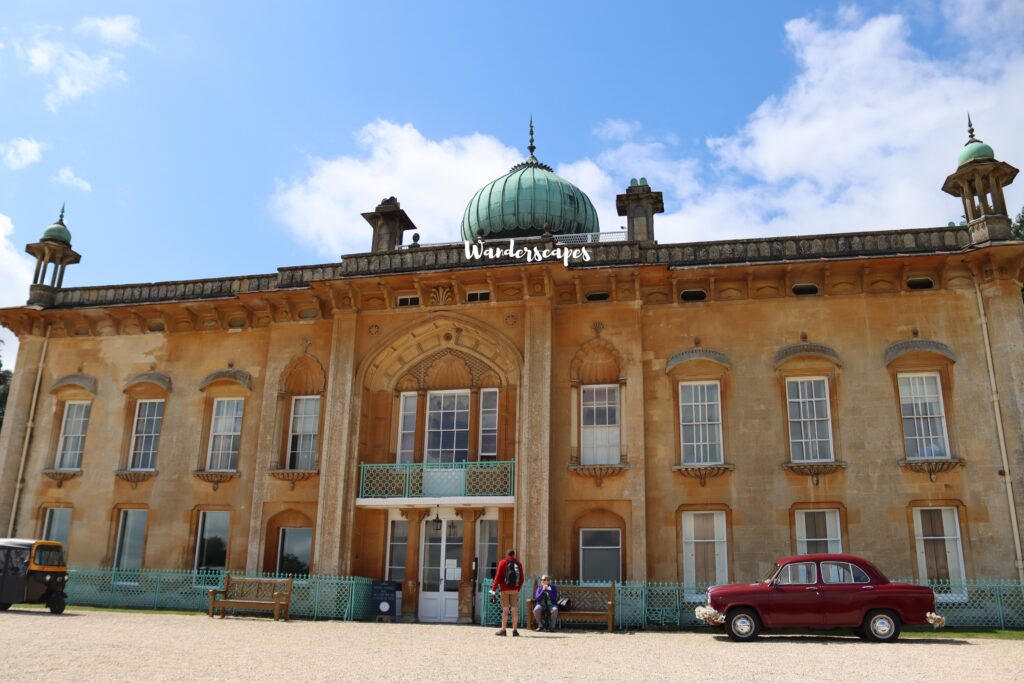 The very sight of dear old Amby and auto warmed up our hearts with nostalgia. No matter how many sleek and advanced models are in the market now, nothing is exciting like seeing an Ambassador car. That too in England! And the auto looked like it just came riding from India. The stickers of Gods and goddesses and all other 'decorations' we Indians do to our vehicles were on it. Can something be more nostalgic than these? We don't think so.
House Tour
We walked around the car and auto like two children seeing them for the first time. This visit is already feeling special… Soon, it was time for the house tour. We joined several others and a guide took us around the house explaining everything in detail. The interior of the house was more or less European in style. It was a typical mansion with big rooms, a fancy staircase, and other objects of opulence including artworks.
People hire Sezincote for various events. If someone hires it for a wedding, the bride gets to use the main bedroom on the first floor. It is a wonderful room overlooking the garden and the courtyard. Likewise, the ballroom with its mirrored doors reminded us of Sheesh Mahal (hall of mirrors) seen in Mughal forts. (Unfortunately, Sezincote being a private residence, we couldn't click any pictures from inside the house. You'll have to visit yourself to see all the splendid displays there.)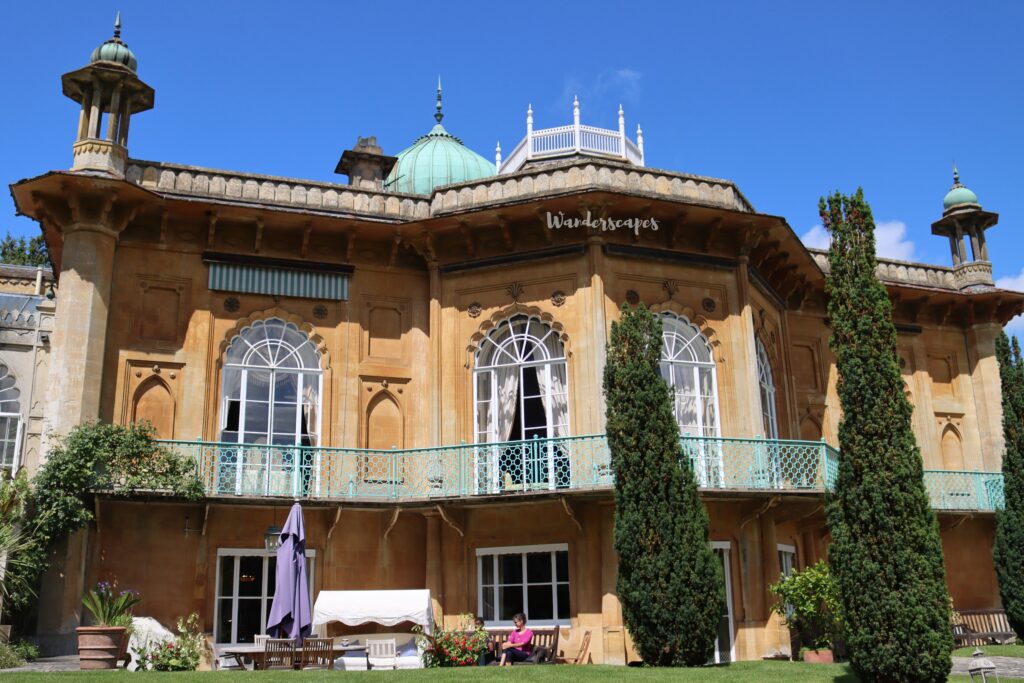 Tip: Sezincote House is open on Wednesdays, Thursdays, and Fridays from May to September. Ticket prices are Adults £12.50. Children (16 and under) £7.50. The first tour starts at 11.30 am, and then every half hour until 4.30 pm, which is the last tour of the day. All house tour tickets must be pre-booked and pre-paid through the Sezincote House website.
Sezincote Gardens
Our house tour lasted about 45 min or so and soon we were back at the gardens. The gardens are well-maintained. It is a mix of renaissance-style with Hindu elements. There is a fountain, symmetrically arranged plants, Indian elements such as statues of elephants, among others. There is a small hill by the side of the house from where we can enjoy excellent views of the house. The best view is from the top of the hill as you can see the entire house and the orangery. It is a magnificent view, to say the least.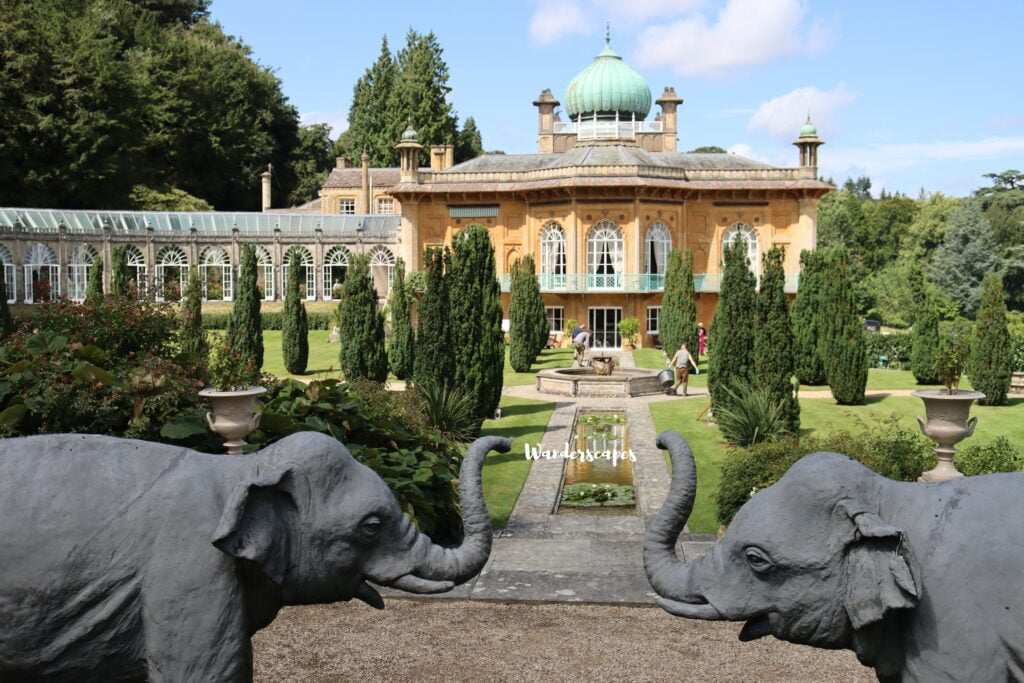 We stood there for some time enjoying the view and clicking pics. Several people came up the hill to see the building from that vantage point. We chatted with quite a few of them and all of them said it was amazing architecture. Some of them told they are keen to travel to India and see more sights like this. We happily suggested some must-see sights.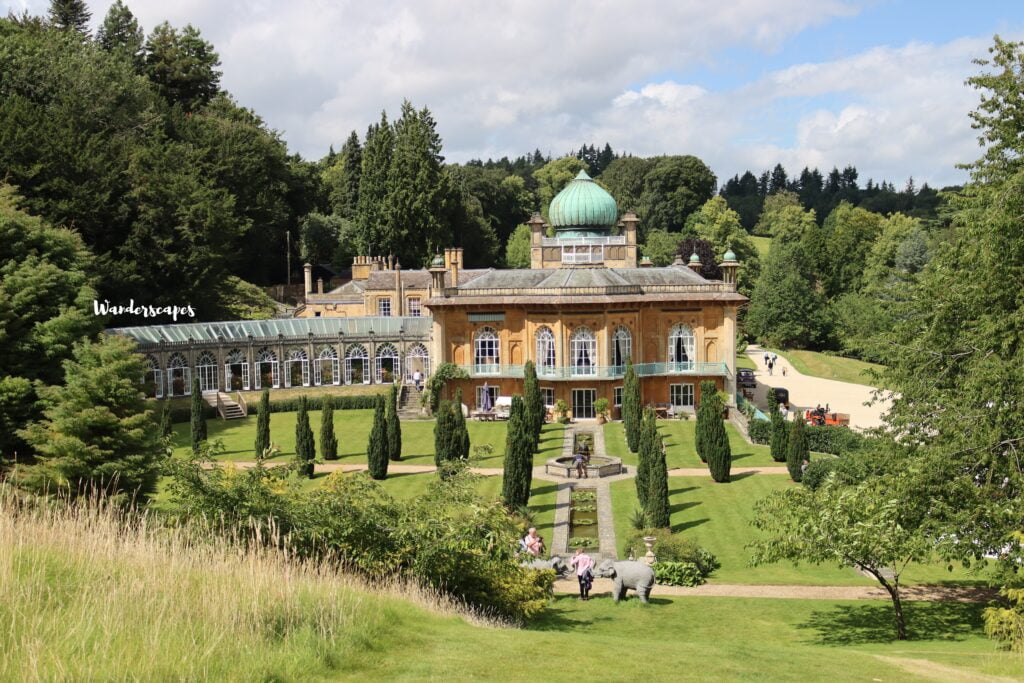 Other Sights in Sezincote
There is a wildflower meadow, a tennis court, and Chhatri near the house, which we explored. The entire setting was lovely. It felt nice to be able to walk around and enjoy all the beautiful sights. Soon, we arrived back at the gardens and decided to check out the orangery.
It now functions as a cafe and so we decided to have tea and cake from there. The tea was good, but the cake was delicious. Do try it when you visit.
Sun Temple
After our tea break, we continued exploring the grounds. Soon we reached the Sun temple. It is a small temple with an installation of the Sun god riding his chariot. There is a beautiful pond in front of it with a fountain in the middle. There are benches at the other end to sit back and enjoy the views to the fullest.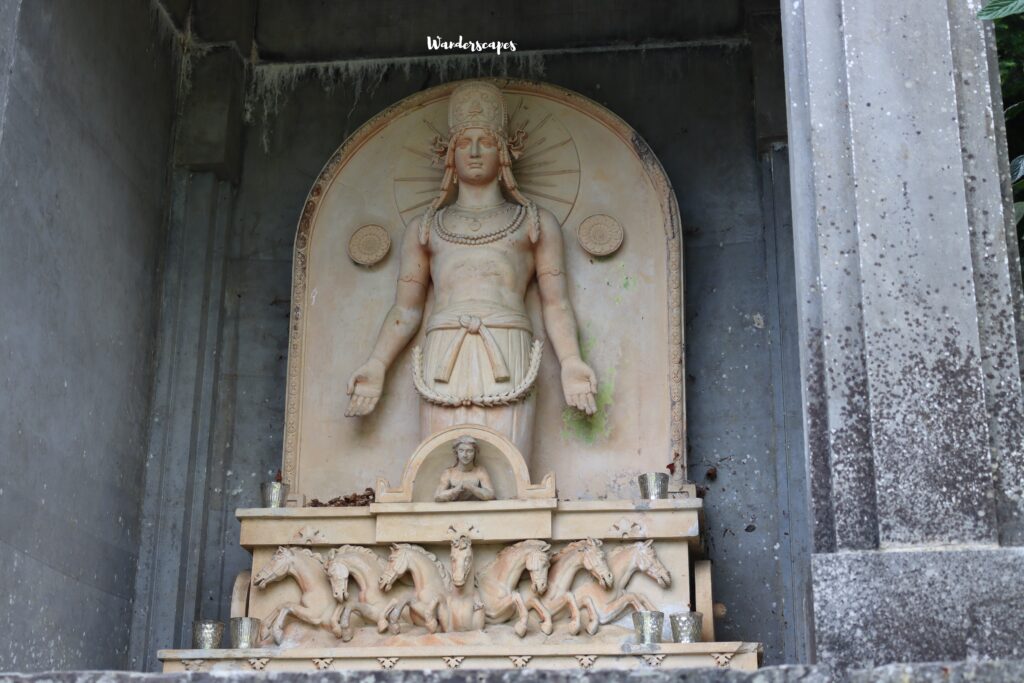 We sat there for some time, reflecting on several things. It was a surreal feeling to be sitting at a Sun temple in England… We realised it made us miss home even more. Our thoughts flew back and forth from England to India.
Mixed Feelings
While there we couldn't help thinking about India and the sufferings the Indians had to endure during the British rule. Although this house seemed magnificent, it is also a reminder of the loot and plunder by the British in those days. The noted Indian Author and politician Shashi Tharoor, in his book An Era of Darkness, calls it an 'incongruous monument to the opulence of the nabobs' loot'. He was referring to the construction using the wealth acquired by the East India Company's loot and plunder in Bengal.
We were sad to think that this building was constructed with the money made from the miseries of people back home. At the same time, there is no doubt that this is a magnificent construction that gives a glimpse of the rich architectural heritage of India. People visit this place and marvel at its beauty and think about India and its heritage. The Indian connection they see all over the place creates an awareness of India and we appreciate it.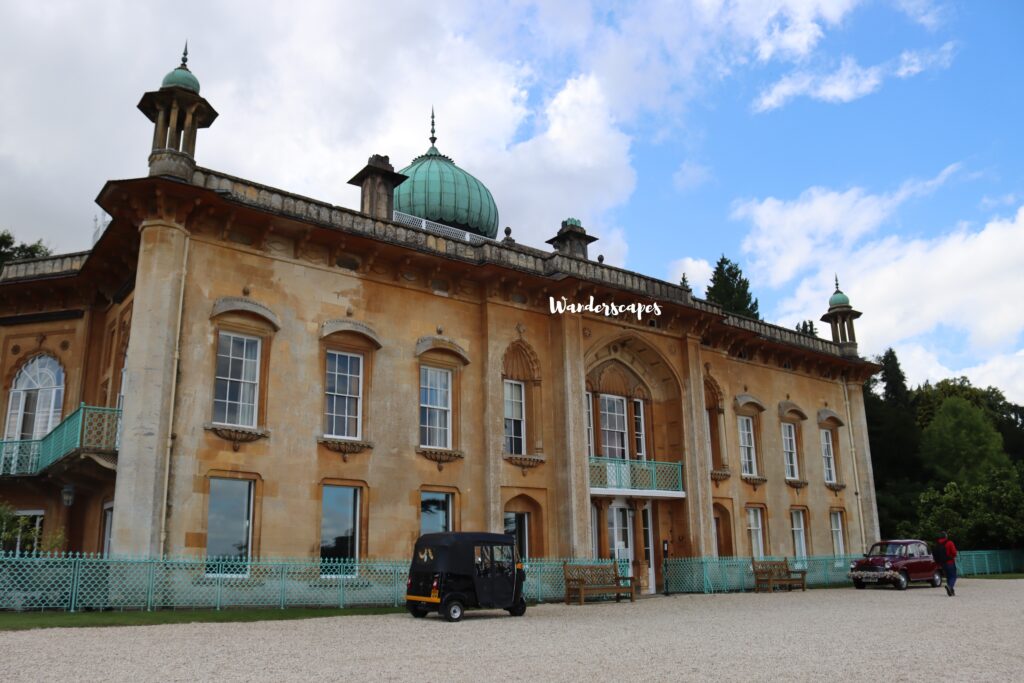 Although the misdeeds of a bygone past should not be judged at present, as Indians, we can't help feeling a bit sad about how things were back then for our people. We are happy that Sezincote showcases the rich and varied Indian heritage the whole setting couldn't have been replicated better. Still, a little sorrow lingers at a corner of the heart and we feel sorry for those who had to suffer the plunder and loot of the British Empire.
Snake Pond
Before we exited the grounds, we decided to see the snake pond up close. So, we went under the Indian bridge and took a closer look at the snake pond. There was a bench underneath the bridge looking out into the pond. Sitting there, embraced by the cool breeze and soothing sound of flowing water, we fell into a trance. What a wonderful way to unwind! It was time to let go and live in the moment.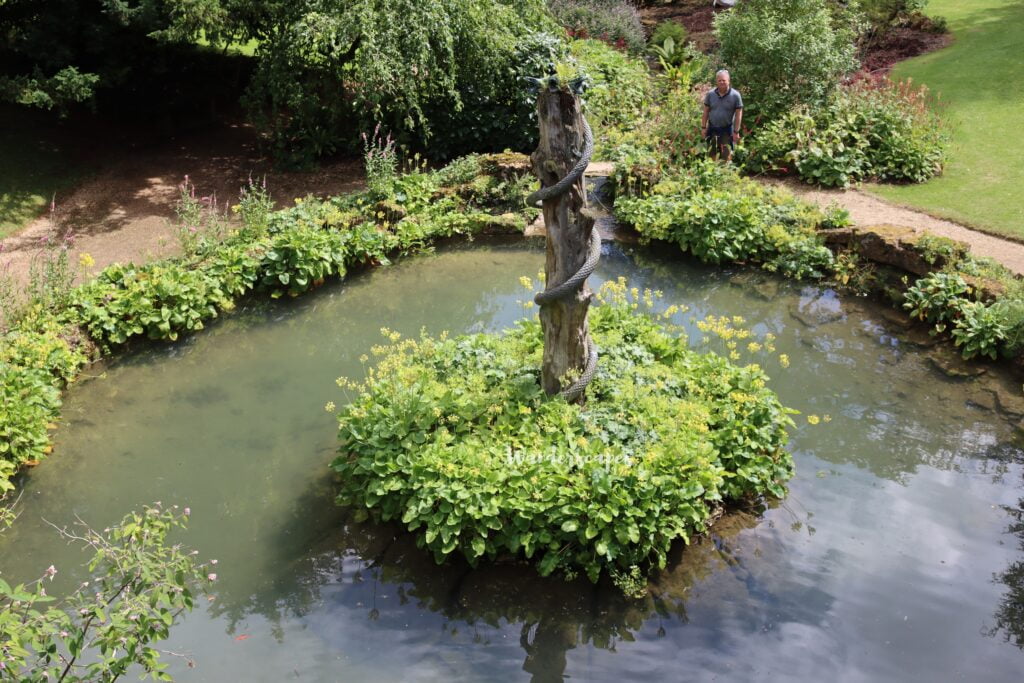 Time to Move On
Time waits for no one and it was time for us to move on to our next destination. We traced our way back to the car park. The walk uphill was strenuous – not only our legs but also our hearts felt heavy. We walked silently, lost in our worlds. Soon, we reached the car park and drove away to our second last stop of the day and perhaps of this trip.
More about it in the next blog. Stay tuned…
If you haven't read our other blogs from this series, click here to read them. Don't forget to check out our vlog on Sezincote here.